This post may contain affiliate links. Read my disclosure policy here.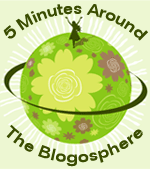 Welcome to our weekly roundup here at "5 Minutes Around the Blogosphere".
As you know, you can come back all week and add a post or giveaway to our Mister Linky. Be sure to check back often, as new links will be added daily. You don't want to miss out on something fun.
ANNOUNCEMENTS
Too much negativity in your life? Check out love.mylife.com – a site that focuses on the uplifting stories of life!

Love My Life users are encouraged to submit their own happy moments here.Participation is also encouraged on Twitter, and the best and most creative tweets will be included on
the Love My Life blog.

Love My Life will be moderated by its owners, but user feedback and participation is encouraged. Each post will have a permalink to its own page, and commenting will be open for all posts. Go share your happy moment now!
CONTESTS & SWEEPSTAKES
Earthbound Farm has just launched acontest seeking quotes from children for the inside of its clamshell salad labels. Kids are encouraged to submit quotes thanking those who purchase organic for helping protect the future.

For each child's quote that is chosen, they have the opportunity to win a $500 US Savings Bond for their future education. In addition, a $500 donation in their name will be given to their choice of certain dedicated nonprofit environmental organizations. Winning quotes will appear on the back of new and improved salad labels and on the Earthbound Farm website!

Four winners will be selected in July and then add a new winner every month through the end of 2009!

To enter the contest, visit the website here.

HP has launched a new contest on YouTube called You on You. The contest runs through Sept. 22 and invites people from around the world to create and upload 1-minute videos expressing who they are – without showing their faces.

Participants have a chance to win up to $300,000 in cash and product prizes, including $40,000 for first place and HP's Artist Edition notebooks for the top 100 most-voted-on videos and top 100 semifinalists!

Showcase your creativity using any technique – from a music video to a comedy or Mini-biography – and then share videos with friends and family across multiple social networks, including Facebook, Twitter, MySpace, LiveSpaces and Orkut. In addition, the winning video will be recognized on YouTube's homepage.

Here is a video by 'You on You' host and Grammy-nominated Artist, Kenna, that explains how to participate!
BLOG GIVEAWAYS
For Everyone
For Women
Baby Essentials
Just For Kids
Books for Grown-Ups
Books for Kids
Mom-Musings The Siege of Macindaw – Ranger's Apprentice, Book 6 (7/29 Worldwide)
Would you like to share a fun giveaway or a worth our while post? Please add it to the Mr. Linky below. You can come here any time this week to add in your link. Don't miss out on the fun. Be sure to visit throughout the week as the linky grows, and more sites are added.
If you would like to have a post on your blog featured in 5 Minutes Around The Blogosphere, please send us an email with the actual link to your post at features5minutesformom at gmail dot com and we'll see if it can be arranged.
You can find Marissa writing away at Mama Sparkles.