This post may contain affiliate links. Read my disclosure policy here.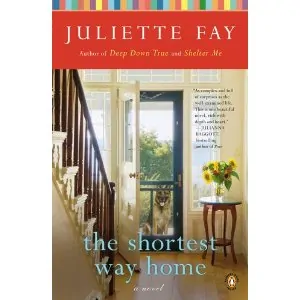 I loved this book. I loved it from start to finish, front cover to last word. The Shortest Way Home is a book that brought me great satisfaction while reading it — pulling at my heartstrings in just the right way, and engaging me into these wonderfully written characters.
Sean Doran is an irascible, committed yet unrooted kind of guy. For the last 20 years he's been working as a nurse giving humanitarian aid in various places around the globe, yet neglecting his own family back home in Massachusetts. When he finally returns for a visit after a 6 year absence, he notices his aunt who raised him for most of his life is starting to have memory problems. His nephew Kevin, who she and his sister took in when his father died, is now 11 and seems to be sort of raising himself.
Sean once felt a calling to his profession, an obligation to take his life and make something good of it, but he's now feeling lost. It seems he's dodged the Huntington's disease genetic bullet that took his mother before she even reached his age. He always assumed he'd die in his 30's, but the idea of living a full normal lifespan has him at a crossroads.
Does he have it in him to really live — instead of living like he's dying? Returning home and connecting with old friends and family forces him to examine his life and take a good hard look at who hes been and who he wants to be.
Each and every character in The Shortest Way Home by Juliette Fay grew beyond the stereotype into wonderfully imperfect lovable people. Issues such as fatal genetic diseases, physical deformities, infertility, abandonment and more are obstacles that these characters face and are shaping them into who they are. Fay handles these issues with a delicate touch. They are all grave issues, yet she didn't overplay them. At almost 400 pages, this is a relatively long women's fiction novel, but I would have gladly stayed in this world for 400 more.