This post may contain affiliate links. Read my disclosure policy here.
Red Ribbon Week® is the oldest and largest drug prevention campaign in the country.
In 1985 after the murder of a DEA agent, parents, youth and teachers in communities across the country began wearing Red Ribbons as a symbol of their commitment to raise awareness of the destruction caused by drugs.
This year, the national contest for the 27th annual Red Ribbon Week® runs October 23 through 31 by The National Family Partnership® (NFP).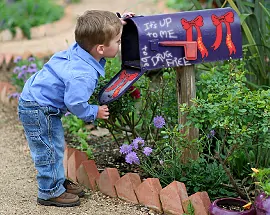 This year, families can get involved by entering a contest to promote awareness in their neighborhoods and win a drug prevention grant for their schools.
To participate in the contest families and students will decorate the front of their homes with this year's message: "The Best Me Is Drug FreeTM."
Here's how students and their families can enter to win $1,000 for their local K-12 school and a new iPad for their home:
Students bring the Red Ribbon Week® message home by working alongside parents to decorate their front door, mailbox, fence, etc. with this year's theme "The Best Me Is Drug Free™."
Take a photo with the family and their Red Ribbon Week® decoration, then upload by Nov. 2 to www.redribbon.org/contest or www.facebook.com/RedRibbonWeek (must be parents or 18+ to upload photos).
 The voting begins! Ask family and friends to vote for your entry at www.redribbon.org/vote Nov. 2-16. Ten lucky winners from regions across the U.S. will win. Winners will be announced at events at their winning schools in December.
Take the Red Ribbon Week® pledge across America to help children grow up safe, healthy and drug free.
Watch the video: