This post may contain affiliate links. Read my disclosure policy here.
Does your child have a Nintendo DS?
Last fall, Nintendo sent my son Jackson a Nintendo DS Lite so that we could review various games. Jackson was six at the time, and had been begging me for a DS. He was saving his allowance to buy one when Nintendo sent us the DS Lite. Perfect timing. (Jackson was beyond ecstatic of course — and he used the money he had saved to buy his first game, Lego Star Wars.)
And it is because of moments like this…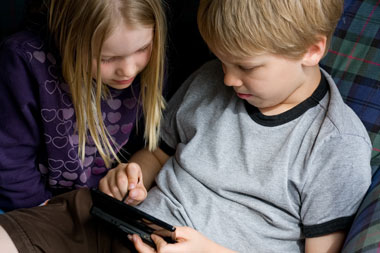 …that I love his Nintendo DS almost as much as Jackson does!
On long car rides, on airplane rides, or even on afternoons at the cabin like the one pictured above, it is so wonderful to enjoy the peace and quiet of Jackson enjoying his Nintendo DS!
But since Jackson's favorite game is his Lego Star Wars, I am always interested in him trying out games that aren't based on good vs evil, etc. I like it when that little box of wonder is challenging his mind in other ways than just zapping the bad guys.
So I have been pleased to see Jackson enjoy games like Brain Age 2, which is actually for adults, but Jackson had fun trying it out, and Nintendogs, where you get to raise and train puppies!
The latest game Jackson tested out was Animal Planet Emergency Vets for Nintendo DS.
We took it on our trip to the cabin this past May, and Jackson – along with our friends' two kids who were vacationing with us – was hooked by the game.
They spent hours taking turns pretending to be veterinarians by performing veterinary procedures on different animals, like teeth cleaning, medicating and operating with the NDS stylus and playing games that challenged their memory and dexterity.
This "E" rated game was a hit with ALL of us!
About Animal Planet Emergency Vets for Nintendo DS:

Key features:

Fifteen vet mini-games with five levels of difficulty for each game:
-Memory Games: Check-up exams-what instrument is used for which body part?
-Puzzle Games: Fix bones by piecing them together like a puzzle
-Matching Games: Match the correct animal with the correct medication
-Dexterity and Action Games: Dragging fleas, bath time, and more!
Thirty different animal species to care for and interact with – dogs, cats, horses, birds, rabbits, ferrets and many more
Talent from the TV series provides helpful guidance and instruction to the player
Facts and "Did You Know?" questions directly from Animal Planet

The game is rated "E" for everyone and retails for $29.99. (But Amazon has it for $19.79 and Discovery Store.com has it for $19.99, as does Toys R Us.com)
WANT TO WIN?
If you want to win a copy, Animal Planet has provided us with a copy of "Emergency Vets" for Nintendo DS to giveaway, simply leave a comment below.
As always, don't forget to earn more entries: subscribe to our Feed, sign up for our 5M4M Newsletter, add our 5 Minutes for Mom button in your sidebar, write a post and link back to this contest on your blog, and spread the word via Facebook, Twitter, or email! (Just make sure you leave extra comments letting us know. Your comments are your entries.)
Please see our site's Terms and Conditions of Use for a complete list of our contest and giveaway rules.
This giveaway is open to US shipping addresses only and will end on Friday, July 10th. We will announce our winner on Saturday, July 11th.
Written by Janice