This post may contain affiliate links. Read my disclosure policy here.
We know it is good for us. We know we need to do it more. But drinking enough water in the day can sometimes be a challenge.
If you find it difficult to drink enough water or find yourself reaching for a soda instead of a glass of water, here are 5 tips to drink more water every day: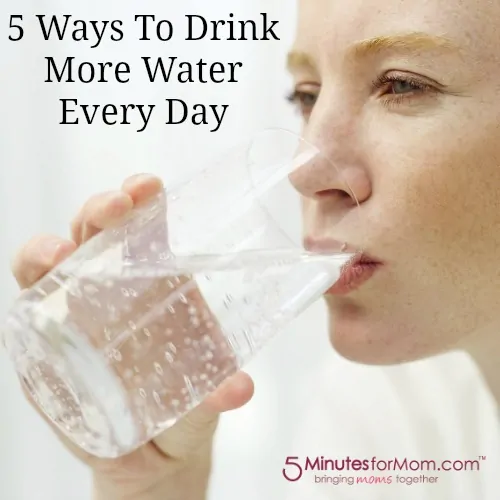 1. Drink over the Kitchen Sink
As busy moms, we have all stood at the kitchen sink, gulping down a quick snack or meal. But before you run out the door to pick up your kids from school or pick up the dry cleaning, grab a glass of water and gulp that down at the kitchen sink. You will be more refreshed and less likely to get thirsty and hit Starbucks en route.
2. Add Lemon or Lime
Adding some fresh or bottled lemon or lime juice to your water can turn a glass of water into a drink! Even my kids squirt lemon or lime in their water to liven it up. (Sure, at first they wanted to add some sugar. But I weaned them off that pretty fast.) Now, they fill up their glasses with ice, water, and a splash of lemon or lime. And for an extra fun twist, try buying Key limes. They taste delicious and make water more fun!
Tip: The acid from lemons and limes isn't good for our teeth. Try drinking your lemon/lime water through a straw and rinsing your mouth with plain water after drinking lemon/lime water to reduce damage to your teeth.
3. Get Sparkly
I joke that I go through Pellegrino like water! My ten year old son and I LOVE Pellegrino sparkling water. We add ice, lemon or limes, (my son especially likes Key limes,) and that is our drink "indulgence." Sure, I still have my Coke Zero's when I am desperate for a caffeine hit, but more often I reach for a bottle of Pellegrino.
4. Skip the Coffee, Add Water to Your To Go Mug
I rarely ever leave the house without filling up a water bottle. Not only does it keep me sipping water throughout my parenting taxi duties, I always have some water handy when I pick up parched kids, begging for something to drink.
5. Guzzle a Glass Before You Eat
You have heard it before I am sure, drinking a glass of water before you eat a meal will help to keep you from overeating. And we can all use a little help to keep from reaching for those seconds!
Bonus Tip:
Every time you feel tired, hungry, or head-achy, drink a glass of water. Often, it is dehydration making us feel worse. A glass of water can revive you — and help you meet your daily water intake goals.
Cheers!
If you found this post helpful, we would love it if you gave it a Stumble, Tweet, Pin, or Facebook Like. Thanks so much! We really appreciate your support of 5 Minutes for Mom.
Written by Janice Croze, co-founder of 5 Minutes for Mom.
We want to get to know you better — Tweet with us: @5minutesformom, find us on Facebook: Facebook.com/5minutesformom, or join our newsletter list.