This post may contain affiliate links. Read my disclosure policy here.
Check out all our current giveaways on 5 Minutes for Books! We have four open right now, including the first in our Summer Fun Giveaway during which we'll have daily giveaways through June 7.
Most of us end up leaving our children overnight at some point, whether it's for a getaway with our husband, a girls' weekend, or a ladies' retreat at church. Some of us are gone several times a year for blogging events or other business travel. Making sure that the children are cared for is an added pressure whenever we have to leave. We want to be sure that they are cared for physically, but their emotional well-being is always on our minds as well.
My Mommy's on a Business Trip by Phaedra Cucina is a delightful picture book that helps address this. The text is clear and simple, yet it has a good rhythm for reading aloud (as any picture book should).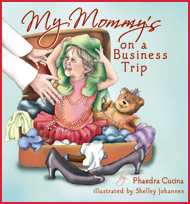 The book is written from the perspective of a child, wondering what her mommy is doing while on her business trip. The pictures show the child play-acting the same things that she thinks Mommy is doing: having fun riding trains and planes, swimming in the hotel pool, and having lunch meetings.
The message is reassuring, including the points that Mommy always calls, and Mommy always comes back. I think that this book would be good for any child, from about age two on up. And I mean, on up. I would think that an eight-year-old who was struggling with his mother's travel would be comforted by this book as well (especially if he or she had a younger sibling to read it to).
Although the pictures and text depict a traveling mom, if it's the dad who travels, I would think that it would be a good resource to use at home in that situation as well.
It does include the fact that "Mommy had to go away because her work helps our family and makes her happy," which is a bit more Mommy-centered, addressing the working vs. non-working moms. I think it's an important message, and can help children take pride in their mom's accomplishments.
The back of the book includes a world map and a U.S. map, which is great to show the child right then where Mommy is (or where she has been on other business trips).
This book was recently recommended by Working Mother magazine, and I can see why. It is available exclusively at MommyTrip.com.

We have one copy to give away to one winner (with a U.S. or Canadian address). Leave a comment if you'd like to win. The winner will be announced in next week's column.
The winner of Learning to Live Financially Free is # 59 Cathy.

You should have received an email from me. If not, please send your shipping info to 5minutesforbooksATgmail(DOT)com.
Written by 5 Minutes for Books managing editor Jennifer Donovan, who also blogs at Snapshot