This post may contain affiliate links. Read my disclosure policy here.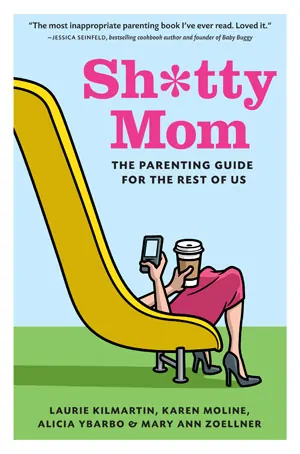 Ladies, the next time you lock yourself in the bathroom to hide from your screaming, fighting kids, bring a copy of Sh*tty Mom and laugh away your problems.
Sh*tty Mom, The Parenting Guide For The Rest Of Us lets moms relax and laugh at the impossible tasks we undertake in this crazy world of modern day mothering.
Even if you are a homeschooling, baby-food making, attachment parent who actually makes the recipes and crafts you "pin", my bet is you'll smile and snicker along with the rest of us as we accept that sometimes it's okay to cut corners.
This light hearted guide to parenting is written by four brilliant, hilarious professional women who are brave enough to admit they aren't even trying to be perfect parents.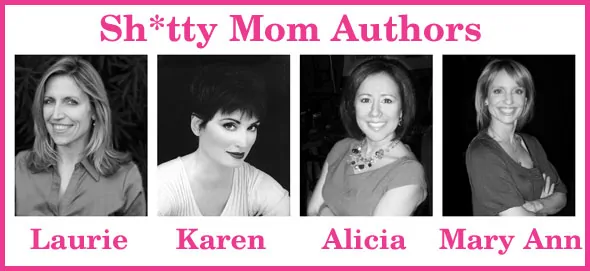 Before the book was published, I got to spend a couple hours laughing in person with two of the authors — Alicia and Mary Ann — in New York at BlogHer12. I knew immediately that I'd love the book and I told them I'd be honored to make sure you — our fabulous readers — found out as soon as it was available.
And that time has come… Sh*tty Mom has just been released and we hope you'll join us in spreading the word and ensuring the opening week is a huge success.
So don't wait… buy your copy right now. And then remember a great way to support the book is to leave a review on Amazon.
Also, they've dubbed Sept 12th 'National Sh*tty Mom Day'. You can tweet and Facebook leading up to the 12th – follow @shttymom and use the hashtag #ShttyMom to share your less-than-perfect parenting moments. The authors will collect tweets using #ShttyMom and will randomly select winners for Sh*tty Mom prizes.
If you're a mom or you're on the road to the blessings of motherhood, give yourself a break. You need this laugh.
Written by Susan Carraretto, co-founder of
this Mom Blog, 5 Minutes for Mom.
Talk with me: @5minutesformom and Facebook.com/5minutesformom
Pin with me at http://pinterest.com/5minutesformom/