This post may contain affiliate links. Read my disclosure policy here.
The neighborhood we just moved from had not one, but two garbage days a week. For a flat rate, residents could put out as many bags as they wanted, along with as many household items as they wanted. This encouraged a lot of waste, and it always made me sad to see used, but otherwise decent items be put out as trash.
When Sasha Lipton, a high school student in 2006, saw something similar happening in neighborhoods near her New Jersey home, she decided to do something about it. Motivated by a twofold purpose – the desire reduce waste, while also helping local children – Sasha and her mother began collecting plastic toys they found thrown out on trash day. They would get the toys cleaned up, then donate them to local churches, shelters, and other charities.
Soon Sasha started sharing her story, and found others willing to help. From those efforts, Second Chance Toys was born.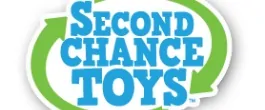 Second Chance Toys holds two large plastic toy collection events every year – one in March-April for Earth Week, and one during November-December for the holidays. You can search for a drop-off location in your area, or if there is not one, consider holding a toy collection event of your own. Second Chance Toys provides a step-by-step guide for the process, with information on how to find and prepare toys, how to choose an organization to receive the toys, and even how to get media coverage for the event.

There are other ways to support the mission of Second Chance Toys, including through donations of money and time. As of 2011, Second Chance Toys had collected more than 100,00 plastic toys, and they have largely depended on private and corporate sponsors and the volunteerism of others to reach this impressive milestone.
Sasha Lipton is now a college graduate, and continues to inspire others with her vision for Second Chance Toys. With more grassroots efforts in communities across America, she hopes Second Chance Toys will grow into a "thriving national charitable organization with community involvement and impact coast to coast and far beyond."
For more information, be sure to visit the Second Chance Toys website, and follow them on Facebook and Twitter.