This post may contain affiliate links. Read my disclosure policy here.
I enjoyed re-reading my review of Tina Ann Forkner's first novel, Ruby Among Us, in preparation for writing this review.
Rose House features a little more mystery and a little more romance. But it also had what I appreciated about her first novel: clear, vivid, evocative writing following broken people making connections with other people who help them get to where they need to go.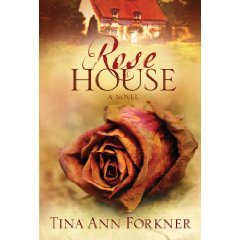 Rose HouseLillian Diamon is still dealing with the tragic loss of her family in an accident five years earlier when she unexpectedly comes across a painting that features her in a gallery in La Rosaleda. The painting features her in a private moment of grief that she had on her first visit to the Rose House in La Rosaleda four years earlier.
Who painted the picture that was donated anonymously to the gallery? Has someone been watching her? Is any of this connected to the accident that killed her family all those years ago?
These questions and more drive the storyline. I enjoyed meeting each of these characters and soaking in the lush setting as created by Tina Ann Forkner — both the beauty of the California wine country setting, and the tasty food writing (much of the story is set at a Bed and Breakfast, and Lillian is a chef!).
Rose House is the story of how one woman remakes herself — finding a new vocation, a new home, and working to restore her relationship with her estranged sister, while testing the waters to see if she's ready to accept a new romantic interest in her life.
The story builds to an exciting climax. I read the last several chapters quite quickly. This book also has an Epilogue, which I LOVE to see in a novel — to find out where the characters are a few months or years down the road. It gives it great culture.
If you'd like to win one of THREE copies (U.S. and Canadian shipping addresses) of Rose House, please leave a comment. We'll announce the winners in next week's column.
Post written by 5 Minutes for Books managing editor Jennifer Donovan, who also blogs at Snapshot.
The winners of the Hachette Books Mother's Day Book Giveaway are
#89 Sara
#144 Karen L
#109 Renee
#126 Willowsprite
#49 Jinii

You have one week to claim your prize. You should have received an email from me, but if you didn't, send your address to 5minutesforbooksATgmail(dot)com.