This post may contain affiliate links. Read my disclosure policy here.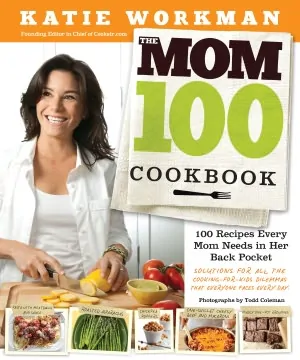 Are you a foodie? Or a functional cook? Or perhaps your children's complaints and picky eating habits have removed any desire that you ever had to cook.
Unfortunately, no matter our feelings on the subject, dinner must be served each night. And I think that most of us seek to be cost-effective and healthy, which means we all need to have some sort of menu ready-to-go that we can serve our families.
As I looked through Katie Workman's The Mom 100 Cookbook: 100 Recipes Every Mom Needs in Her Back Pocket, I realized that there is something in here for everyone: the descriptions, gorgeous photos, and Katie's obvious love of fine food will definitely appeal to the more gourmet foodies out there; however, the straight-forward instructions will help and inspire those of us who are struggling; and picky kids don't stand a chance against her tips to encourage children to try new things (like fish). The title of the introduction explains it all: "How to pick your battles and find happiness in the kitchen."
But she's also a realist and knows that some kids are not going to eat what we want to eat, and as adults, we don't want to eat as simply as some kids do. Instead of making "adult food" and "kid food" each night, Workman offers the ingenious "fork in the road" concept on some of her recipes. Take a pasta recipe with a simple sauce and set some aside for the kids before adding more spices and vegetables to please the adults.
I highly recommend this book whether you are an accomplished cook or simply like to look.
The Mom 100 Cookbook has chapters on
Breakfast
Lunches
Snacks
Soups and Salads
Poultry
Comfort Foods
Pasta and Pizza ("The Magic Words")
Company Dinners
Desserts
and many many more