This post may contain affiliate links. Read my disclosure policy here.


Heart disease is not something to be taken lightly and the folks at Sara Lee are helping to promote Heart Health with their new cookbook WomenHeart's ALL HEART Family Cookbook.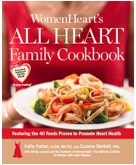 This cookbook features 40 foods that have been proven to promote a healthy heart! As moms, we do our best to make sure we feed our families healthy meals. The WomenHeart's All Heart Family Cookbook is a great aid in this endeavor as not only does it provide heart healthy tips, but it is chock-full of heart healthy recipes.
The photos in this book are enticing, and the recipes look so yummy! The coolest thing is that I didn't even know that many of the foods I'm already eating are heart healthy, they just need a little tweak to the recipe to include even more heart healthy ingredients!
I think I've planned the next few month's worth of dinners and appetizers just from this book! With recipes like Lemon Blueberry Muffins, Happy Heart Pasta Primavera, Garlic Smashed Potatoes, and Tandoori Chicken, and all of them being healthy, you just can't go wrong! I've already got the Beef and Asparagus Stir Fry set for dinner this week!
If you love to try new recipes, if you know someone who does, this cookbook is a MUST HAVE! It is PERFECT for Mother's Day! That is why we are giving THREE copies away. Three lucky readers will each win their own copy of The WomenHeart's All Heart Family Cookbook
To enter this giveaway:
Leave a comment on this post. This giveaway is open to US and Canadian shipping addresses!
Either link back to our Mother's Day Giveaway 2009 post and include a "Mother's Day 2009 Giveaway" button in that post or on your sidebar or link to this post.
As always, non bloggers are welcome to participate. We understand you can't link, but please spread the word to your friends!
Additional entries can be earned by Subscribing to our Feed, Signing up for our Newsletter, or spreading the word via Facebook, Twitter, email, etc.
This giveaway is open to U.S. shipping addresses only
Please visit our Mother's Day Giveaway 2009 post and our site's Terms and Conditions of Use for a complete list of our contest and giveaway rules.