This post may contain affiliate links. Read my disclosure policy here.

They say great things come in small packages. I don't really know who "they" are, but "they" appear to be right. At least when talking about HP's line of Mini PC's, the HP Mini 1000.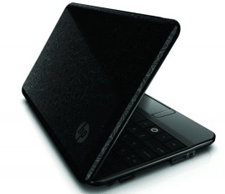 Before I get to the technical stuff, let me just tell you – this computer is cute. It's not just kind of cute, it's give-it-a-name-and-treat-it-like-your-new-baby cute.
At less than an inch thick and weighing little more than 2 pounds, the HP Mini 1000 is perfect for mom bloggers on the go. And it's easy to use, which is an added perk because who has time to decipher the configuration of PMP's in the N276 sector of your control panel whilst three kids are screaming for your attention in the background? (If it isn't obvious, my knowledge of computers ends slightly beyond the on/off switch. Ease in a PC? That's music to my ears.)
The HP Mini 1000 is more than just cute, though. It's also functional. It includes Genuine Windows XP Home Edition with Service Pack 3 for getting things done and staying connected in a protected environment, an Ethernet jack, two USB ports, and Wi-Fi and Bluetooth wireless capabilities as well as a built in webcam and microphone. It also boasts a keyboard that is nearly full size at 92% of a regular keyboard.
All of these combine together to create the perfect station for storing photos, music and files while giving you access to the internet and to your family when you are on the go.
Mini PCs are geared toward information "snacking" and content enjoyment. "Staying connected to your world – however you define it – is increasingly important to people on the go," said Ted Clark, senior vice president and general manager, Notebook Global Business Unit, Personal Systems Group, HP.

"That's why HP is excited to address this new high-growth market with a portfolio of head-turning mini companion PCs that are fun and easy to use."
For the busy mom on the go, it's perfect. It can even fit in your purse or diaper bag. And have I mentioned that it's cute?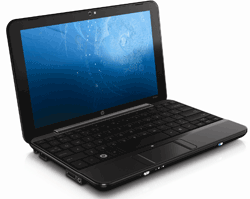 The HP Mini 1000 XP edition retails starting at $299.99. But one lucky reader will have the chance to win her own (super cute) HP Mini 1000 XP Edition, retail value $469.99, in our Mother's Day Giveaway contest. That's right, one of you will get to take one home, name it, cradle it and love it as your own. Who's excited?
To enter this giveaway:
Leave a comment on this post. This giveaway is open to US and Canadian shipping addresses!
Either link back to our Mother's Day Giveaway 2009 post and include a "Mother's Day 2009 Giveaway" button in that post or on your sidebar or link to this post.
As always, non bloggers are welcome to participate. We understand you can't link, but please spread the word to your friends!
Additional entries can be earned by Subscribing to our Feed, Signing up for our Newsletter, or spreading the word via Facebook, Twitter, email, etc.
Please visit our Mother's Day Giveaway 2009 post and our site's Terms and Conditions of Use for a complete list of our contest and giveaway rules.