This post may contain affiliate links. Read my disclosure policy here.
Are you a Mom Entrepreneur? Me too.
In my experience I've learned that one of the keys to success is going to business events and learning from Top Experts so I can recharge my spirit, my business strategy and gain a new perspective for how to increase success.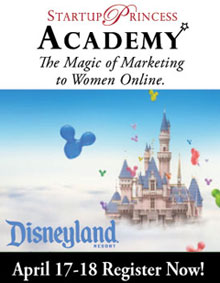 That's why I am excited to share with you a great upcoming event that 5 Minutes for Mom is proud to sponsor: The Startup Princess Academy April 17-18th at Disneyland Hotel, Anaheim, California.
Not only does Startup Princess put together classy events with impressive speakers (lovingly called "Fairy Godmothers") – Maria Andros, Alexis Neely, Ciaran Blumenfeld, and more… they feature small group discussion and mentoring sessions so you walk away with an increased understanding of how to APPLY what you've learned once you get home. And they take it a step further with an optional 4-week follow up program as a part of the event to ensure that you start putting the principles into practice.
Lucky for you, it's not too late to get a great discount and participate in the great giveaways they are offering, including an all-inclusive Image + Media retreat in Park City! Use the code "5minutesformom" for $25 off the ticket now through April 3.
I recently had the opportunity to meet Kelly King Anderson, the Founder and Managing Director of Startup Princess.com we could hardly get off the phone with one another, we connected on many levels… Enjoy some Q & A:
Janice: Tell me about Startup Princess…when did you start it and why?

Kelly: I started Startup Princess in the Summer of 2006 while I was nursing my third baby and desperately wanted to go to more business networking events to meet other business professionals, but even when I did get a babysitter to attend events, there weren't any women there! Where were they? All online! So I decided to reach out to them and interview them and discover their secrets to success… Plus I wanted to share what I was learning about business as I was raising money with Angel investors for a Princess-themed retail concept (I had won 2nd place at a National Business Plan competition and was hopeful to get it going). Fortunately the site and Startup Princess community took off before the retail business did and now I am blessed with one of the best jobs on the planet—supporting bright, talented women business owners. Life is beautiful…I get to meet wonderful, inspiring women every day!

Janice: Everybody always wants to know "how do you do it all?" What's your answer to that question?

Kelly: I don't… I'm trying to figure it out all the time, but I'm constantly falling short and asking for help (I think that's ok). The biggest answer for me is to pray and ask God what he wants me to do next and try to follow the inspiration I receive throughout the day and in my planning.

Janice: In today's economy what's one tip that you can offer mom entrepreneurs?

Kelly: Just one? Here's a few…continue to build a community of support, get testimonials from your clients, get referrals from your customers, don't be afraid to ask for help from those who are in complimentary industries and cross promote, discuss and consider possible partnerships. If you're not already on Facebook and Twitter… You're seriously missing out a great opportunity to connect and share with a larger audience who loves and "gets" online shopping and wants to promote great products and services. Skimp on everything in-house, anything your customer touches should be GOLD.

Janice: Tell us a bit more about the upcoming Disneyland event?

Kelly: Oooh! We're so excited to bring National Experts together to discuss "The Magic of Marketing to Women Online" and where better to do it than at Disneyland? We're planning a fun night at Disneyland on Friday night (tickets are just $38 from 4-midnight) and then Saturday is the "Get down to business" day with intensive training and discussion groups, mentoring, all centered on the topic of reaching female consumers. Besides getting great marketing strategies, I know everyone will go home with lifelong friendships. I can't wait!
Thanks Kelly for producing such great opportunities for women entrepreneurs to connect and learn. There is still time to sign up: Use code: "5minutesformom" to save $25!
P.S. I'm excited to also announce that I'll be speaking at Startup Princess' annual Touchpoint Conference in SLC, Utah Sept 18th. Mark your calendars, more info coming soon on that! Last year over 100 women attended…there's even a business plan competition and a boutique, sounds like a fun event and I'm looking forward to it.