This post may contain affiliate links. Read my disclosure policy here.
Acne sucks. At any age.
There's nothing that can rip out your self-confidence and kick it to the ground, like staring in the mirror and seeing pimples staring back at you.
You want to hide. Climb under your covers and stay there until your skin is clear. But you can't. You have to go to school or go to work. And it feels like everyone, everywhere is staring at your zits. You're embarrassed and humiliated.

You might even wish you were dead.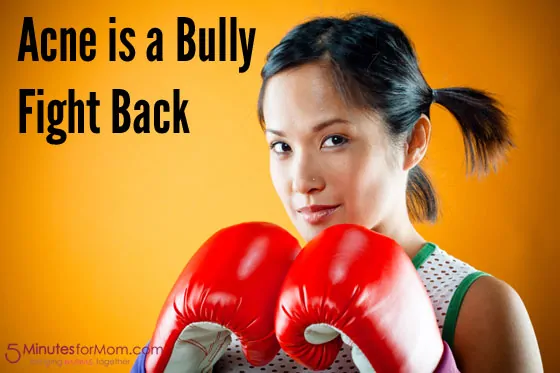 Acne is a bully that usually hits when you're most vulnerable… as a teenager. But even when you're in your twenties or thirties, acne can destroy your confidence and basically ruin your life.
I've been fighting it for 26 years. Here's my story…
I know I was luckier than many and my acne could have been much worse. But I want to share my story to help others. I sincerely wish I'd had Proactiv when I was a teenager and especially during my early twenties when my acne was at its worst.
I want to encourage parents to talk to their teenagers and get them help.
I think sometimes people are so embarrassed by their acne, that it's hard to ask for help or try something new. But there are ways to fight back and improve acne.
You may need to talk to a doctor or dermatologist if the acne is severe, but otherwise, start simple and try Proactiv.
Your teenagers might be too embarrassed to even talk to you about their acne, but it's so important to keep communication open with them and help them understand what acne is and what it isn't. They need to learn how to care for their skin and they need to learn to separate their self worth from their skin.
Remember acne is something that's happening to your skin. It's not who you are.
Written by Susan Carraretto, co-founder of 5 Minutes for Mom.
Disclosure: I am participating in a compensated ambassadorship program. But my opinions are all mine.
We want to get to know you better — Tweet with us: @5minutesformom, find us on Facebook: Facebook.com/5minutesformom, and join our newsletter list.