This post may contain affiliate links. Read my disclosure policy here.
An Early Start
The day started at 3 a.m. Eastern time. So that means, for my Pacific time zone body, I got up for one of the most exciting — and busy — days of my life at 12 a.m.
Since I usually don't go to bed until at least 1 a.m. LOL, I just pretended I was pulling an all-nighter after a power nap. All-nighters I am used to.
BUT this all-nighter didn't end with a nap.
No, at 7 a.m. the cameras were on and Chef Marie Grimm, Executive Chef from the Olive Garden, and I began shooting a 29 interview marathon. Almost six straight hours of shooting!
But it was as FUN as it was grueling! (At about 11 a.m., Marie and I laughed to each other because neither of us dared ask the producer again how many more interviews we had left to do. We felt like the kids in the back seat whining, "Are we there yet?!?")
After the first interview or two, I was at ease and relaxed. I honestly had a ton of fun! I didn't really even think about being nervous. If anything, it just became a matter of checking them off as Chef Marie and I got more and more tired. LOL It was surprising how tiring it was. But then again, that may have come from getting up so early!
What It Was All About…
This media adventure was part of a creative project we are working on with Olive Garden. In the spirit of spring, we want to inspire you to bring a taste of Italy to your table.
We have created an Olive Garden dedicated page featuring Olive Garden's delicious recipes, Chef Marie's fantastic tips and tricks, and video demonstrations to help YOU create authentic Italian soups, sauces and entrees for your family. Yes, YOU!
Here you can see exactly what I was up to…
The Olive Garden Tweet Up
After the interviews were over, I zipped back to my hotel, did some work (yes, there truly is no rest for the weary!) and tried to lie down for an hour. But after adrenalin pumping for that many hours, sleep was hardly gonna come anywhere near me!
So, up I got. Applied fresh makeup and headed to the Orlando Olive Garden Tweet Up.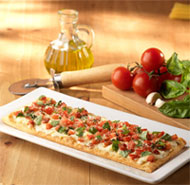 Thanks to Olive Garden, we had a delicious dinner, complete with appetizers and desserts. Thank you so much Olive Garden! All sixteen of us had an incredible time.
The food was incredible and so was the service! Our server kept us well entertained. He was quite a riot!
We started with the Caprese Flatbread and the Grilled Chicken Flatbread — and of course the limitless, famous, breadsticks. To.die.for.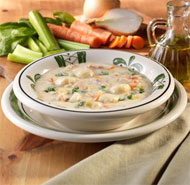 The Olive Garden soups are legendary, so I had to try the new Chicken and Gnocchi. It is a creamy soup made with roasted chicken, traditional Italian dumplings and spinach. Those little dumplings melted in my mouth. I wanted to pace myself and save room for my dinner, but the soup was so good I couldn't stop eating it!
For the main course, I chose the Tuscan Garlic Chicken which was so good I wished I hadn't been so full from the appetizers and soup so I could have eaten every last bite of it.
But the best part is, Chef Marie is teaching all of us how to make these delicious dishes AT HOME! (So you just make sure you invite me over for dinner when you make them OK?) Check it out — yes YOU can be that Italian chef in your kitchen!
(I will post more about the Tweet Up later this week, including pictures, twitter handles of all the tweets who were there, and our winner of the Door Prize generously donated by Stride Rite.)
The Culinary Institute of Tuscany
Close your eyes and picture it. Tuscany. Flavor and romance permeate the air. The rich heritage is sketched not only in old stone buildings and cobbled streets, but in the faces of the locals as their eyes wrinkle with their smiles. You are surrounded by food, wine and laughter.
Olive Garden treasures and preserves their connection to Italy with their Culinary Institute of Tuscany, an 11th century villa in Tuscany where Olive Garden sends their managers and chefs to be trained and inspired.
On Olive Garden's Culinary Institute of Tuscany website you can learn more about the dishes inspired by the CIT – and even discover the recipes and learn how to make them yourself.
Do You Want to Go to Italy Too???
I don't think there any many people in the world that would answer "No" to that question!
Olive Garden will be sending a lucky winner and a guest to Italy to visit their Culinary Institute of Tuscany.
Don't miss your chance to go…