This post may contain affiliate links. Read my disclosure policy here.
Lolli here…
I find it fascinating to discover "back-stories" – to find out how a person ended up where they are today or why someone ended up taking the path that they did. I've already discussed how much I enjoyed People Like Us, but my appreciation grew as we talked with the movie's director, Alex Kurtzman, about the behind-the-scenes details that made the movie what it was.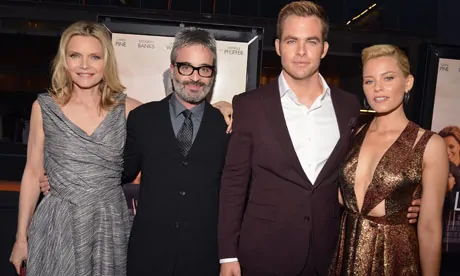 Is People Like Us based on a true story?
Yes, it is!
Alex Kurtzman: I met my sister when I turned 30. My dad had had another family before ours. We knew about them growing up, but I'd never met them. My wife and I were starting to think about having kids. And that makes you think about your family and where you come from.
I started thinking about my half-sister and half-brother and wondering who they were and what they were like. And this image came to me – the last image of the movie. I didn't know who those characters were in the image. But it just struck me very profoundly as the ending to my story. And I thought, "Wow, that seems like a really interesting story."
And then I went to a party that night. A woman walked up to me and said, "I'm your sister." So that began the seven years of trying to work through it and separate truth from fiction in order to make a movie. So what you see is I think in many ways very autobiographical and in other ways there's a lot of invention in there. But I certainly think there's a lot of emotional and emotional truth for a lot of people in my family in there.
The journey to People Like Us
Alex Kurtzman: I took photographs from my childhood. And there are literally pictures of me with 70's hair and guys with balloons at the park. And so all of that stuff at the end of the movie is sort of taken from my memories of childhood too.
I've had the privilege of being able to sit behind directors and watch them do their thing. And, you know, I always got into writing to be a director. Our lives took us down a very different path.
You know, you go where the work is and where life takes you. And it's been incredible. But I think I've always been looking and waiting for that story to go back to the stuff that we started, you know, the memories that inspired us to tell stories in the first place.
I don't think I could have done this without the experience of working on all those other movies because the set wasn't intimidating to me. I felt like I'd been there a lot. And I could never have had the crew that I had if I hadn't made those movies. Because, you know, I made a real point of surrounding myself with people who were far more talented and experienced than I. And what that allowed me to do was in — was to trust them and to, you know.
Did you know? People Like Us Facts:
"People Like Us" is Alex Kurtzman's feature-film directorial debut. Kurtzman and his business partner Roberto Orci are well-known screenwriters who have written several big event movies, including "Star Trek," "Transformers," "Mission: Impossible III" and "Transformers: Revenge of the Fallen."

The story of "People Like Us" was inspired by true events. Director/writer Alex Kurtzman grew up knowing his father had been married before and had two children. He never met his half-siblings, but later in life he met his half-sister at a party. They have since become close.
Much of the music business memorabilia in the "Jerry's Study" set belongs to Jody Lambert's father Dennis Lambert, a Songwriter's Hall of Fame nominee whose hits as writer and/or producer include "Ain't No Woman (Like The One I've Got)", "Rhinestone Cowboy", "Baby Come Back" and "Nightshift". Jody Lambert showed production designer Ida Random a storage unit full of his father's memorabilia and she used it in the set, including photographs of Lambert himself and his actual Gold Records.
Michael Hall D'Addario, who plays Josh in the film, is actually a musician in real life and is in a band called Members of the Press.
One of the scenes in the film was shot at Rhino Records, one of the oldest record stores still in existence.
See PEOPLE LIKE US in theaters now!
Starring Chris Pine, Elizabeth Banks, Olivia Wilde, Michael Hall D'Addario, Philip Baker Hall, Mark Duplass and Michelle Pfeiffer
Directed By Alex Kurtzman
Written By Alex Kurtzman & Roberto Orci & Jody Lambert
Produced By Roberto Orci, Bobby Cohen, Clayton Townsend, Alex Kurtzman
"Like" PEOPLE LIKE US on Facebook: facebook.com/peoplelikeus
Follow PEOPLE LIKE US on Twitter: @ppllikeusmovie
PEOPLE LIKE US hits theaters everywhere TODAY, June 29th!
Written by 5 Minutes for Mom writer, Lolli. You can find Lolli blogging at Better in Bulk and tweeting at @1momof5.
Disclosure: I attended a screening of People Like Us while I was in LA last week. My travel expenses were covered, but all thoughts about my experiences and the movies that I watched are my own.