This post may contain affiliate links. Read my disclosure policy here.
Lolli here…
Every once in a while, a movie sneaks up on me and completely catches me off guard.
People Like Us was like that for me. I knew the basic story line before I saw it last week. I had seen the trailer. But I honestly didn't give it much thought before sitting down in the theater to see a screening.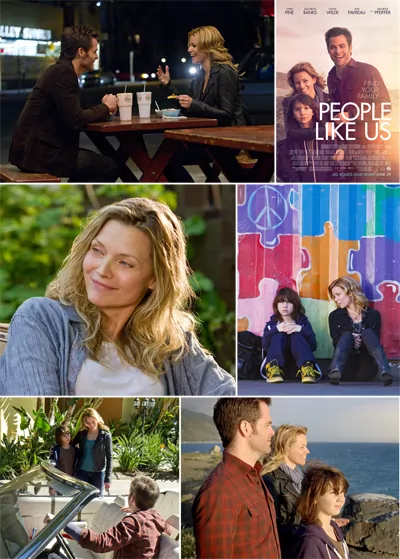 Here's the basic run-down on People Like Us:
People Like Us Synopsis

From DreamWorks Pictures comes "People Like Us," a drama/comedy about family, inspired by true events, starring Chris Pine ("Star Trek") as Sam, a twenty-something, fast-talking salesman, whose latest deal collapses on the day he learns that his father has suddenly died. Against his wishes, Sam is called home, where he must put his father's estate in order and reconnect with his estranged family. In the course of fulfilling his father's last wishes, Sam uncovers a startling secret that turns his entire world upside down: He has a 30-year-old sister Frankie whom he never knew about (Elizabeth Banks). As their relationship develops, Sam is forced to rethink everything he thought he knew about his family—and re-examine his own life choices in the process.
Have you seen the trailer yet?
The two main characters, Sam and Frankie, are people like us – imperfect and struggling. They take the viewer on an emotional roller coaster that leaves everyone laughing one moment and tearing up the next.
There are no special effects. No action. No exotic set. The beauty of People Like Us is in the PEOPLE. Regardless of family situation or dynamics, this movie seems to hit a chord with everyone who sees it. I found myself tearing up several times during the movie, but what surprised me most was that the entire theater was misty-eyed (including the men in attendance) as the final credits rolled. It's hard not to get wrapped up in the story and become virtually lost in Sam and Frankie's life.
People Like Us will leave you thinking about family, friends, and what is important. It will make you consider the quality of the time spent with your own kids, and might just motivate you to open up and reach out to someone you haven't talked to in a while.
Check out a few motivational #PeopleLikeUs quotes on family, friends, and what matters most.
See PEOPLE LIKE US in theaters June 29, 2012
Starring Chris Pine, Elizabeth Banks, Olivia Wilde, Michael Hall D'Addario, Philip Baker Hall, Mark Duplass and Michelle Pfeiffer
Directed By Alex Kurtzman
Written By Alex Kurtzman & Roberto Orci & Jody Lambert
Produced By Roberto Orci, Bobby Cohen, Clayton Townsend, Alex Kurtzman
"Like" PEOPLE LIKE US on Facebook: facebook.com/peoplelikeus
Follow PEOPLE LIKE US on Twitter: @ppllikeusmovie
PEOPLE LIKE US hits theaters everywhere on June 29th!
Written by 5 Minutes for Mom writer, Lolli. You can find Lolli blogging at Better in Bulk and tweeting at @1momof5.
Disclosure: I attended a screening of People Like Us while I was in LA last week. My travel expenses were covered, but all thoughts about my experiences and the movies that I watched are my own.