This post may contain affiliate links. Read my disclosure policy here.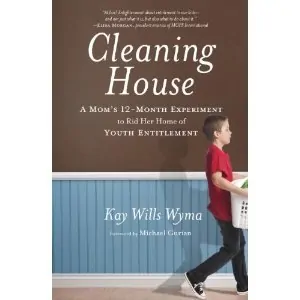 As a book reviewer, I read a lot of books. A lot of books — like 10 a month. There are a handful of books that I read each year that I love so much that I buy them for friends and family and urge all with whom I come in contact to read. Cleaning House: A Mom's Twelve-Month Experiment to Rid Her Home of Youth Entitlement by Kay Wills Wyma is one of those books for 2012.
I have two kids: a daughter who is starting high school in the fall and an 8-year-old son. They probably don't do as many chores as some kids, but they probably do more than others. They are each responsible for cleaning their own sink area in their bathrooms, but since I'm not a super-neat freak, I don't enforce it well. They unload the dishwasher. They get the mail. They pick up after themselves when I ask them to. But this summer I had decided that I wanted them to learn to do more. My daughter likes to cook, and when she was 10 or 11, she prepared several meals for our family. But instead of sticking with it, I let her enthusiasm die down. I told my kids that this summer, they'd be responsible for one dinner a week. Because the first few weeks of this summer were our busy ones, I haven't started yet, but it's coming.
My reason for requiring more from them was similar to Wyma's, as you can tell from her subtitle about ridding her home of entitlement. Kids and teens today — at least mine — are entitled. "Why do I have to unload the dishwasher?" they'll whine. "I just did it yesterday."
Well, yes, dear child, I know you just did the one chore I require you to do on a regular basis yesterday, but I have prepared several meals for you since then, and you have had snacks and drinks, and all those dishes had to be washed and now have to be put away.
I value independence. I want my kids to understand the value of work, and yes, I'd like a little more help with a little less whining.
Kay Wills Wyma focused on one area each month, adding several to-do's to her children's lives, including meal preparation, outdoor chores, errands (see my post at my personal blog Snapshot where I tried to get my teen daughter to return a movie at Redbox — not very successfully), laundry and more. Her kids are 14, 12, 10, and 8 and took to the project with varying degrees of protest, but with equal — surprising — levels of success. She also has a 3-year-old who was too young to work, but I'm assuming he'll be getting started within the next 3 or 4 years.
I loved this book for so many reasons, and I beg you to go out and find a copy and read it. Why did I love this book so much? Let me count the ways:
It is very well-written. Wyma's humor, personal tone (yet not too annoyingly personal) and vivid descriptions make it an easy read.
It is practical, helpful and encouraging. Wyma did the dirty work. She tried it out with her kids, and since it was a year-long project, she was able to see long-term benefits. This will inspire me when it seems easier to go back to the status quo.
She's likable. Here's the truth about memoirs and parenting books (this one fits squarely into both categories): in order to work, authors have to share a lot about themselves. In the case of parenting memoirs in particular, the bragging or mean-spirited jabs at the kids often ends up irritating me (too much of either is annoying!). Wyma strikes that delicate balance where she can honestly relay the self-centered, eye-rolling nature of her teen son and the sweet helpful heart of her tween daughter in a way that helped me relate it to my own kids' strengths and weakness. Not TMI, not overblown brags — just a real year in the life of a real family.
With fewer activities and homework demands, summer is a perfect time to have your kids start Cleaning House.
We have one copy up for grabs (U.S. shipping addresses only). Please follow the instructions in the Rafflecopter below to enter. New to Rafflecopter? Watch this 45-second video on how to enter! We'll announce the winner in our book review and giveaway column on 7/9.

The winner of  last week's book post — Glamorous Illusions is #33 Betty.