This post may contain affiliate links. Read my disclosure policy here.
Sixtyfive Roses: A Sister's Memoir sat in my to-be-read pile for almost two months, in spite of the fact that I was really excited to read it. Why? Well, it's fairly thick for one thing (433 pages), and with other deadlines, it was easier to focus on shorter books; but the other reason was more personal. It's the reason that I was drawn to the book in the first place. My long-time boyfriend (for a year in high school and a year in college) had Cystic Fibrosis, so I wasn't sure how I would react to it.

How did I react? I was thankful: thankful for the early pioneers like the Summerhayes family, who pushed for medical treatment and attention to this disease. At the time that Pam was diagnosed (1958, when she was four), it was assumed that the children would die in early childhood, and no efforts were even made to treat it.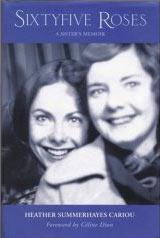 Ms. Cariou writes honestly and beautifully. This is a "sister's memoir." It very clearly shares Heather's viewpoint of being a suffering sibling. She suffers from lack of attention at times, but really she suffers from guilt — guilt that she's well, and guilt about the resentment that she sometimes feels as she's growing up.
But this book is not just about what it's like for a family to deal with life-threatening illness. It's about sibling rivalry and comparisons among family members. It's about the strain that hardship puts on a marriage. About fallen dreams, and teen rebellion, and insecurity. It's about a family.
If you'd like to find out more about the book, and read more about other families who are coping with the effects of this condition, visit the book's website Sixtyfive Roses.
We have one copy of Sixtyfive Roses to give away to one reader with a U.S. or Canadian shipping address. This contest is void where prohibited and subject to our terms and conditions.
Please leave a comment if you'd like to win. The winner will be announced in next week's column.
The winners of My Little Red Book are:

#72 Sarah Stern
#91 prplrush
#44 Karen Gonyea
#94 Kelly Ferrari
#67 J Chaborek

If you did not receive an email from me, please send your full shipping address to me at 5minutesforbooks(at)GmailDOTcom.

This post was written by contributing editor Jennifer Donovan, who also blogs at Snapshot and is managing editor of 5 Minutes for Books.