This post may contain affiliate links. Read my disclosure policy here.
I think it's clear from my previous 5 Minutes for Mom travelogue posts that I loved Los Cabos and all of the Solmar Hotel & Resorts properties. Besides the amazing accommodations and food, I had the sun, beach, and a Spa to enjoy!
But the majority of my vacations are with my kids. Of course my biggest question was Are the Solmar Hotel & Resorts "family friendly"?  Let's face it, not every resort is.
I'm happy to say that the Solmar Hotel & Resorts are definitely family friendly! And so is Los Cabos!!!
The rooms themselves are perfect for a romantic getaway for two or an adventure for the whole family.  Depending on how big your family is, you can choose from Studios with a kingsize bed and stow-away Murphy bed to one, two, thee or four bedroom suites and villas!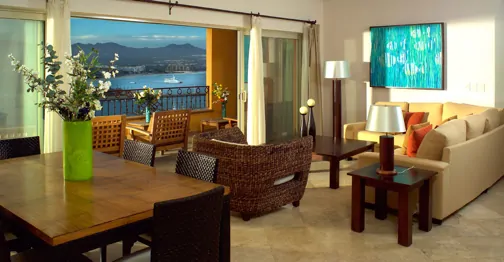 Also, as a mom, I really appreciate the fact that many of the resorts offer the options of All Inclusive or A la Carte! And all of the rooms include a kitchen or kitchenette! It's so nice to know that I can buzz over to one of the local grocery stores and grab stuff for meals right in our room. Conveinent and saves us some money!!!
The best part about bringing your entire family is that there is literally something for everyone at the resort! Choose to lounge by the pool, take in some mini-golf, or join in on one of the themed beach party events!
You can also enroll your child in the Kids Club at the Playa Grande Resort and Spa and, while they are enjoying a day of games, activities, and fun, you can paper yourself at the Playa Grande Spa!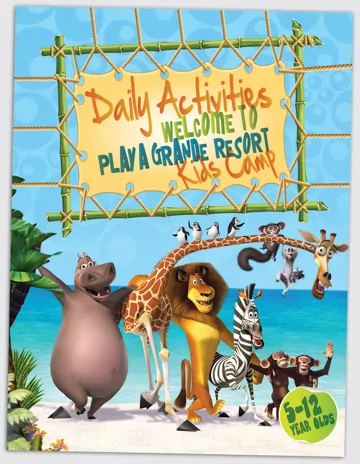 But the adventures can extend outside the resort as well!  Do some shopping in the local shops, go sport-fishing or visit one of the many "adventure companies".
While in Cabo, I had the pleasure of meeting some of the crew at Cabo Adventures. They are an exceptional team who are ready to help you have an amazing adventure. Cabo Adventures offers Dolphin Encounters, Outdoor Ziplining, Camal Safaris, Whale Watching, Snorkeling, Kayaking, Mountain Bike Adventures, and Scuba Diving.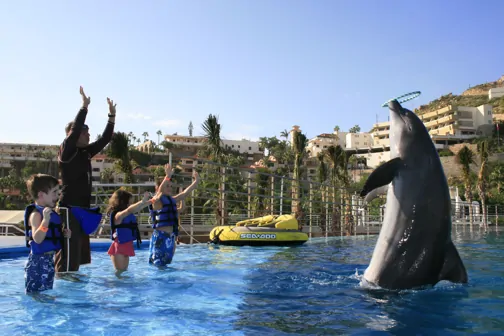 Cabo Dolphins features Dolphin Encounter, Dolphin Experience, Dolphin Swim, Dolphin Kids, & Trainer for a Day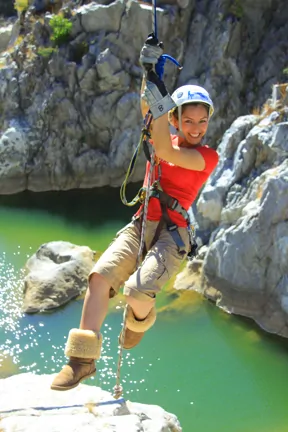 Zip Line & Climbing Adventure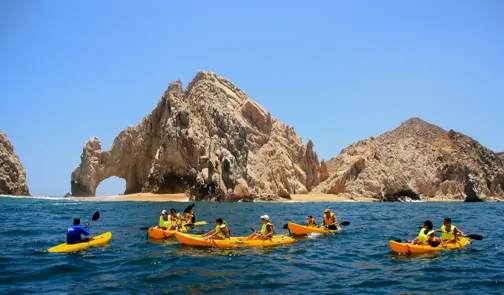 Kayaking
Of course Cabo has a variety of other activities awaiting you — wave runners, parasailing, sunset cruises, golf, ATVs, horseback riding, and more!
Depending on the ages of your kids and what their sense of adventure is, there is something everyone in your family can enjoy!
So, grab your swimsuits, sunscreen, and sense of adventure and book your next family vacation to Los Cabos!
I was invited to the Grand Solmar Land's End Resort as a guest of the Solmar Hotel & Resorts. All travel and accommodations were provided by the resort, as well as some adventures with Cabo Adventures. All opinions are my own. And, yes, I would definitely go back to Los Cabos the Grand Solmar with my family!