This post may contain affiliate links. Read my disclosure policy here.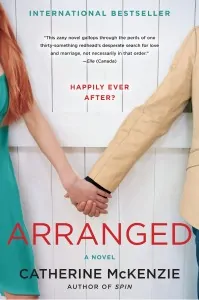 Love and marriage follow a predictable pattern in our western culture, specifically in that they typically happen in that order. When Anne Blythe finds herself climbing out of yet another failed relationship at thirty-three, she feels the weight of failure upon her shoulders. She had fully expected to be in a serious relationship, a lasting one, at this point in her life, and now she must start all over again. In Catherine McKenzie's new novel Arranged, readers may find themselves surprised at the path Anne ends up following.
The business card that literally crosses her path one evening catches her eye because it features her own last name. Though vague, the tone of the card leads her to believe that it's for a dating service. She pockets it with no immediate intention of using it, but not much time passes before she feels compelled to call. Perhaps it's a sign from the universe, and Anne is open to anything right now. Except that when she finds out it's for a company that actually arranges marriages– between complete strangers!– she questions if she is indeed open to anything.
It's not a spoiler to say that Anne does pursue an arranged marriage through the company, though the twists and turns may not be what she, or readers, expected. McKenzie's piece of light fiction makes one think about the traditional aspects of courtship and marriage. Could an arranged marriage set up by an agency actually work for two regular people in today's day and age? The agency insists that a match between two individuals based upon mutual interests and personality types can result in a solid friendship. They emphasize this as more fulfilling than the traditional notion of romantic love, though they concede that these friendship marriages can indeed evolve into a love-based relationship. Anne Blythe is about to find out for herself.
I enjoy Catherine McKenzie's writing because it reads so naturally to me. Her characters are believable, even when put into unbelievable scenarios. Though, having read her previous novel Spin (linked to my review from earlier this year), I found more than a few similarities in character development and plot twists, which made it a bit predictable for me, but not unenjoyable. It's that time of year for fun and entertaining reading, especially on the beach or by the pool, and Arranged fits the bill quite nicely.
We're happy to offer one copy of Arranged for today's giveaway. Leave a comment here to be entered, U.S. mailing addresses only, please. We'll announce the lucky winner on July 2 in our weekly review column.
5 Minutes for Books Reviewer Dawn hopes to spend much of her summer with a book in hand. She'll have to put it down occasionally to pay some attention to her long-lost blog, my thoughts exactly.