This post may contain affiliate links. Read my disclosure policy here.
Give me a novel or memoir with a strong sense of place, and I'm usually hooked. Add the fish-out-of-water element of experiencing life in a new place, include a bit of envy-inducing fantastic experiences, and you have a book that I'm almost sure to enjoy.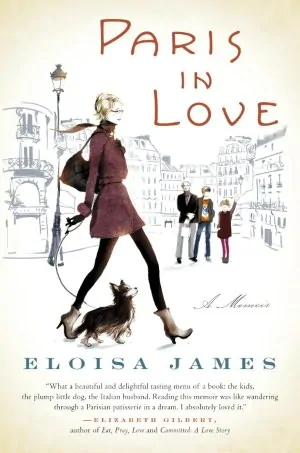 "Paris in Love: A Memoir" wasn't exactly what I expected, but it did contain the elements above, and I definitely enjoyed it.
Romance author by night, Shakespeare professor by day, Eloisa James decides to take a sabbatical and move her family to Paris. What was most surprising about this book was instead of it being a chronological account of her and her family's time in the City of Lights, each chapter begins with an essay that is a page or two long covering topics such as school stuff, food, fashion. But beyond that, there are short paragraphs that give her observation about the city or something going on with her children (who are attending an Italian school as a nod to their patriarchal heritage), Milo her mother-in-law's impressively overweight chihuahua, and her visits to local museums, markets, and sites.
Her stay in Paris was reconstructed from her Facebook and twitter updates, which made it read quite differently from a traditional memoir, but it actually makes for the perfect summer read.
There's nothing more annoying than getting involved in a deep plot point and having to stop to help Junior on the swings, or make lunch, or attend to any of the other realities of daily life. We often try to sneak in reading while our kids are playing or while we're traveling, but it's hard to have time when we can completely focus. That made this book perfect. Because the pages were broken into little slices of life, it was easy to put the book down at any point (but it was also interesting enough that I wanted to pick it back up again).
Eloisa James writes in a straightforward wry observant sort of way that I enjoyed immensely:
We started out this year the way any modern American family would: with multiple cellphones. But I inadvertently left mine on a table in London months ago, and I haven't replaced it. Life without a phone is riskier, lonelier, more vivid. My family doesn't understand. "What if I have to talk to you?" Anna wails. "We already paid for the contract," Alessandro scolds. I remain obstinately disconnected.
Check out Eloisa James' Paris in Love page for excerpts, audioclips, videos and more. I also wrote a related post, Reading Under Stress, at 5 Minutes for Books about why this type of book was so perfect for this time in my life. I'd love to hear your response to being stressed out or the way it affects your reading.