This post may contain affiliate links. Read my disclosure policy here.
I am in a funk. Sadness just seems to have plunked herself down inside me, ready to stay all day — and for no good reason at all.
A few things triggered my depression today, but I am determined to fight back and not let the bad win.
I am a fan of Cognitive Behavior Therapy and believe that even people like myself, who do suffer from chemical depression, can aggravate and/or improve our moods with our thoughts.
Being disciplined with our thoughts is NOT easy — especially when we are experiencing chemical depression. But it is so important.
When doing CBT exercises or work, it is important to write things down and not just keep it all in our minds. But, I don't have any paper nearby. *wink*
So, I am going to do a little visual exercise right here on my blog to count my blessings and focus on something wonderful in my life. As I was scrolling through Lightroom today, I saw this photo I took of my Olivia and Susan's daughter Julia. My life may not be perfect, but today, I am grateful for cousins that are as close as sisters.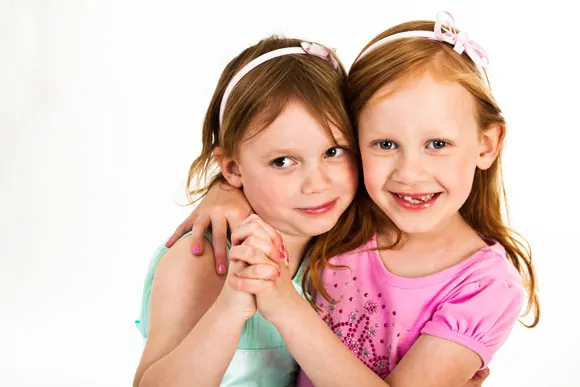 If you are looking for some basic Cognitive Behavior Therapy tips — I saw this slideshow on Huffington Post yesterday and pinned it. It is basic, but helpful.
If you found this post helpful, we would love it if you gave it a Stumble, Tweet, Pin, or Facebook Like. Thanks so much! We really appreciate your support of 5 Minutes for Mom.
Written by Janice Croze, co-founder of 5 Minutes for Mom.
We want to get to know you better — Tweet with us: @5minutesformom, find us on Facebook: Facebook.com/5minutesformom, or join our newsletter list.