This post may contain affiliate links. Read my disclosure policy here.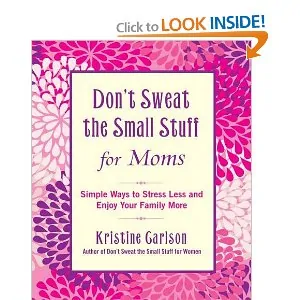 I've always loved to read. I read a lot and usually pretty fast. However, books like these, the Don't Sweat the Small Stuff series, I really take my time and truly enjoy the inspirational messages they contain.
I've read many of them before but this one really came at a time that I felt that I needed extra support. You know those moments when you feel so overwhelmed with the job of being a wife and mother. Maybe the kids are acting up and you feel you've tried everything and they still aren't happy. Or it might be that you are dealing with a lot of stressful issues and your temper is super short. I hate being that way. And when I am I know that I need to take a few moments to myself and just breathe.
Don't Sweat the Small Stuff for Moms is one of the best books I've read lately. You know that all of us moms want to be the perfect mom. Our kids are always happy, dinner is always on the table at the right time, house is sparkling clean. Ummm, yeah, most of us probably fall short of that. But Kristine Carlson reminds us there is no such thing as a perfect mom and helps us to remember what is really important. Those little moments and triumphs that make us and our family smile. Each chapter is filled with inspirational stories and tips to make not only our family happier but also how to make us happier. You know the saying "If mama ain't happy, nobody's happy." It's true! Our attitudes often reflect how others act. So let's nourish ourselves by reading the wonderful words of Mrs. Carlson and let our lights shine!
About Don't Sweat the Small Stuff
In the first new Don't Sweat the Small Stuff book in nine years, Kristine Carlson shows how moms can live with less stress and more happiness. Carlson gives mothers tried-and-true advice that will empower them to find greater peace, joy, and harmony within themselves and their homes. Don't Sweat the Small Stuff for Moms reveals how to:
Be a Mom, Not a Friend
Balance Being a Woman and a Mom
Pursue Your Passion, But Not at the Expense of Your Children
Reclaim Your Family Time
"Kris Carlson extends the "Don't Sweat the Small Stuff" series with much-needed advice for mothers, writing with an understanding heart and penetrating wisdom born of her own experience. Like her late husband Richard, hers is a gentle soul backed by a powerful and transcendent fire."
— Marianne Williamson, author of A Return to Love
Kristine Carlson is an international bestselling author and a leading expert on love, success, grief, happiness, and parenting. Along with her late husband, Dr. Richard Carlson, Kristine has experienced phenomenal success with the "Don't Sweat the Small Stuff" series. Kristine has been featured on national radio and television broadcasts, including The Today Show, Empowered Living Radio, The View, and The Oprah Winfrey Show.Also available as a Hyperion eBook.
Enter to Win a copy of Don't Sweat the Small Stuff for Moms
Use the Rafflecopter below to enter this giveaway. The more ways you enter, the better your chances of winning!

a Rafflecopter giveaway
This is a sponsored post and giveaway. The opinions stated above are my own and were in no way influenced. Written by 5 Minutes for Mom contributing writer, Lesley. Lesley is a mom of two kids – one girl and one boy. She's married to her first and only love, Robby. Author of Dragonflies 'n Daydreams. Her blog has a little bit of everything – life, love, parenting, along with product reviews and giveaways.