This post may contain affiliate links. Read my disclosure policy here.
Did you hear about Her Bad Mother flinging her nursing bra at a hunky opera singer during the Mom 2.0 Summit?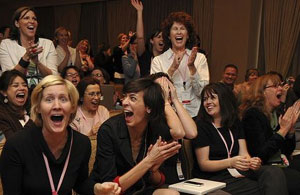 Well, watch our video below to see what would bring a baby-wearing momma to toss her bra at a marketing to moms conference.

Nathan Pacheco from Yanni Voices performs at the Mom 2.0 Summit from 5 Minutes for Mom on Vimeo.
So, what do ya' think? Would you toss yours?
But okay, all teasing aside… Nathan Pacheco gave all the ladies at the Mom 2.0 Summit a preview of the phenomenal Yanni Voices show. And we were all blown away.
You seriously want to check out Yanni Voices. You can watch Nathan and the rest of the Yanni Voices show this week on PBS.
PBS™ Local Stations and showtimes for – YANNI VOICES LIVE '09 · YANNI VOICES '08
(The shows started airing on March 2nd, but there are still more tonight and later this week. But check the schedule now!)
You can watch, embed or link to this video at Vimeo and YouTube.
Watch. Listen. Enjoy.