This post may contain affiliate links. Read my disclosure policy here.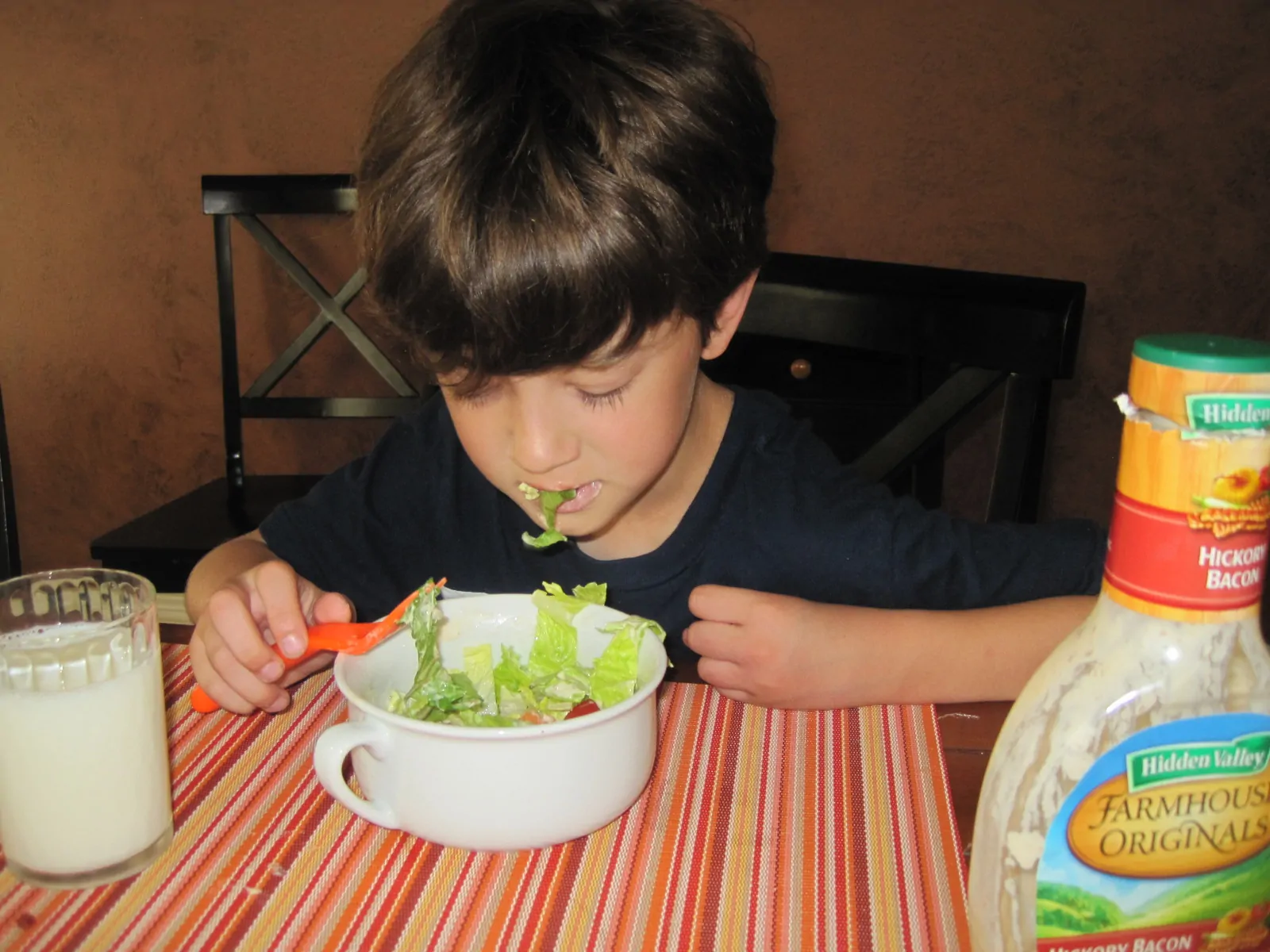 Earlier this month, my 8-year-old son started playing me. You moms know how that goes, right? In this case, Kyle realized that if he focused on eating up all the fresh raw veggies in his salad, he might get away with NOT eating the casserole that was less appealing to him. In fact, at times he'd look at me with those big blue eyes and flutter his lashes and ask "Could I have more salad?"
I'm a compensated panelist for the Love Your Veggies campaign at Hidden Valley Ranch, so this kind of talk makes me beam. The whole reason that I wanted to be a part of the parent panel is because eating more veggies is important to me. I do want my kids to eat vegetables (and that goes for my husband and me too). But sometimes I get lazy or too much fast food or kid-friendly non-veggie cuisine like quesadillas creep nto the menu. So how can I say "no" to that request??
Whenever I've tracked my fruit and vegetable intake, during times when I was actively shooting for 8 – 10 servings a day, the only way I come anywhere close to that number is by eating a huge salad at least once a day.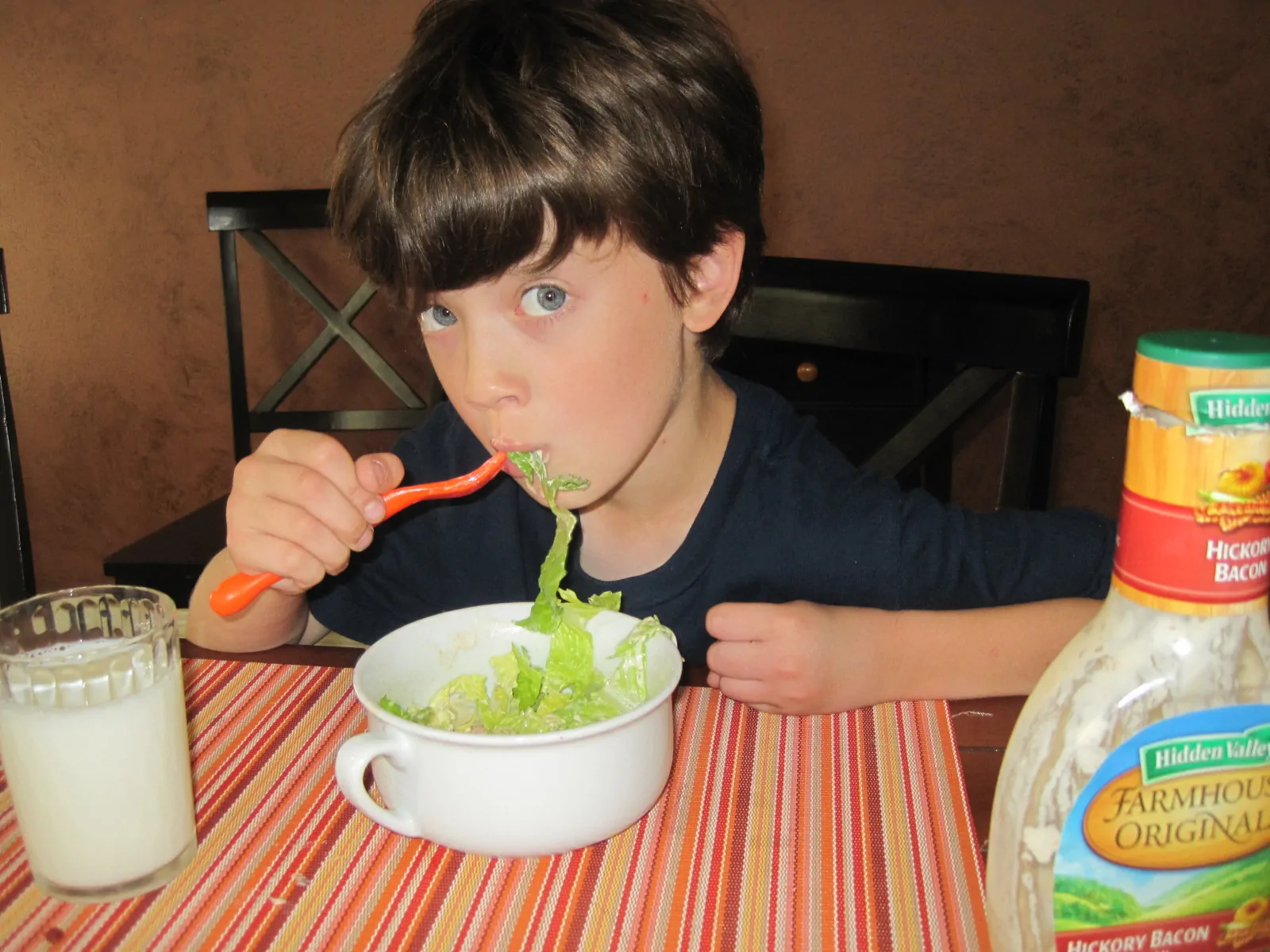 My 13-year-old daughter has generally snacked her way up to dinnertime, so it's all she can do to eat the main dish on her plate. She got tired of hearing me remind her  that she really should eat some salad, and the solution she offered was "I'll take salad to school for lunch tomorrow."
Well that worked for me! I packed up the leftovers into a large plastic container, put dressing in a separate small container, and lunch was ready for the next day. She's taken salad several days this month. It's economical and much healthier than what she'd eat if she bought her lunch, and even as compared to what I usually pack.
I much prefer fresh veggies to frozen or canned, and so our side dishes are usually a simple steamed vegetable, or increasingly a salad. The salad usually contains romaine lettuce, carrots, orange or red bell pepper, and grape tomatoes (for my son and me).
After Kyle began the "I love salad" routine at dinner, I learned that May was National Salad Month. With that in mind — as well as the receptiveness of my children to eating salads — I've made sure that they appear on my dinner table frequently. I don't push it, and like I said, oftentimes the salad is ignored for the other dishes if certain family members aren't as hungry, but I never mind leftovers. The hard work of washing and chopping is done and salad is ready for lunch the next day.
When I'm eating a salad for lunch, I generally add lots of protein in the form of canned beans (kidney or garbanzo), boiled egg, and/or chopped meat or cheese. If you like salads, but want some variety, be sure to check out the salad recipes in the Hidden Valley Ranch recipes section including one of my new favorites the Crunchy Pea Salad.
How many salads do you eat a week? Do salads make it to your dinner table or are they more of a lunchtime staple?