This post may contain affiliate links. Read my disclosure policy here.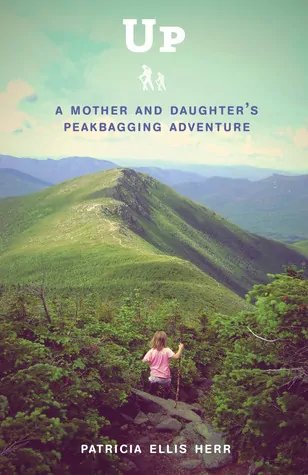 Like me, you might wonder what exactly "peakbagging" is. It's a goal of reaching the summit of mountains in a certain region or having certain characteristics. In the case of Patricia Ellis Herr, she and her five-year-old daughter Alex set a goal to hike all 48 of New Hampshire's peaks over 4000 feet. I was drawn to read Up: A Mother and Daughter's Peakbagging Adventure for several reasons:
I love project books, and the mother/child angle made it even more interesting
a detailed look at family hiking, an activity I've enjoyed with my family
the promise of a way to use real-life experiences to teach lessons
The book delivered on those points. What I did not expect was such a moving (yet never overly sentimental) and well-written account. I've hiked with my kids (especially when we lived in New England), and they were young as well**. But until I watched this book trailer, I never quite realized just how young she was. She's a precocious kid, so when reading, I think that I upped her age to her maturity level mentally.
Several of the hikes are shared in a fair amount of detail, along with any obstacles they faced, including a combative bird and bad weather. A lesson is also tied in such as "Ignore the Naysayers," "Know What You're Getting Into," "Some Risks Are Worth Taking."
One of the best parts was the conversations that came out of the time on the trails, such as why Alex's mom — who once pursued a Harvard graduate degree — chose not to work. Her answer to Alex is that she wanted to spend time with her children and raise them, and didn't even plan to finish her degree or go back to work anytime soon because she wants to homeschool her children. The time also allowed Trish to fully observe and affirm certain qualities in Alex such as maturity, perseverance, and her love for and care of animals.
If you live in New England, you might even be inspired to try one of the hikes of the 48 4000-foot mountains that Alex and Patricia hiked. **If not, maybe you'd try the oft-hiked 3100 foot Mount Monadnock that I actually hiked with my two kids (then 6 and 12). Re-reading my account while writing this review, I remember what a struggle that 4 1/2 mile hike was for Kyle (and for me!!), but I was also heartened by my recollection of the encouragement I gave my kids and the memories we made.
We have TWO copies to give away of Up: A Mother and Daughter's Peakbagging Adventure. Please leave a comment if you'd like to win. We'll announce the winner here in our weekly book giveaway column on Monday June 11.
The winner of Use Your Words: A Writing Guide for Mothers is #4 Grace.