This post may contain affiliate links. Read my disclosure policy here.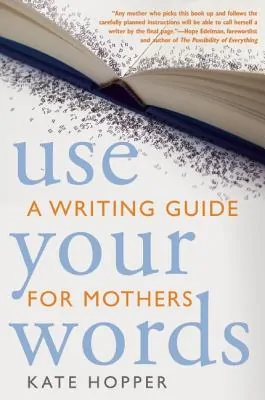 I think that most mothers want to record their children's lives. Many of us started blogs prompted by the reflection that motherhood brought out in us. Others share joys and frustrations via Facebook or Twitter. Perhaps we journal or scrapbook or write yearly letters.
If you want to write about motherhood, but sometimes feel uninspired or struggle to find the time, read Jennifer's review of Use Your Words over at 5 Minutes for Books.  Read Elizabeth's essay below, then leave a comment below if you'd like to win a copy of the book so that you can be similarly inspired.
Sharon is not really my child but it is to me she cries out in the night. I get up, cool tiles under my feet, and walk into my daughter Ilsa's room, where Sharon sleeps uneasily next to her in the double bed. I crawl in on the edge and cradle her skinny, long body. I tuck her head, covered in tight curls, under my chin, although it feels odd, too intimate, to comfort another woman's daughter like this. But there is no one else to bring comfort. "Shh, shh, it's okay, it's okay," I soothe, although I am lying. It is not okay. Sharon's mother was killed by her father a week ago, and we are taking care of her until her grandmother can come up from Cote d'Ivoire to Nouakchott, where we live, on the coast of Mauritania. The sense of betrayal I feel—both the parents were close friends of ours—is nothing compared to what will be felt by this alien child whom I have taken into my heart.
Every day she comes home from preschool at noon in the desert heat. It's March and already hot, the dry wind blowing across 3000 miles of sand and gathering strength from arid places until it seems to suck your very breath when you step out into it, the heavy heat like gold bars crashing down on your head. A friend of ours whose daughter, blonde and sturdy, goes to the same preschool gives Sharon a ride to our house. I meet her at the door in the wall that surrounds our house, and we hold hands as we walk past the low shrubs blooming in this desert thanks to the large hose that runs off our washing machine and waters the sand. Our house, built of concrete blocks, feels dark and cool when we first enter it. It is only a block or so from the house where Sharon lived with her parents, our friends.
Every day, she comes home from preschool and loses it. She shouts and hits, has a tantrum. I hold her tight and soothe her. "It's okay, Sharon. It's okay. I'm here. I love you. Auntie Elizabeth loves you," I tell her. Her English isn't bad, although her first language is French, but in this crisis my French flees. "Je t'aime, je t'aime," I manage. Eventually, she subsides into sobs, her lanky body racked with them, while I clutch her tightly. I do not cry. My tears are dried up in the horror of this new reality as my head whirls to wrap around the fact that I did not know this man I counted as a friend, and that the horror is complicating my chance to grieve my friend Yolande, and her marvelous singing voice and sly sense of humour and fierce love for her only daughter.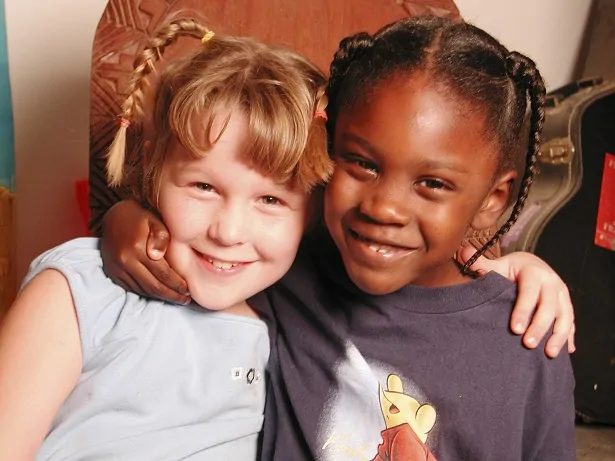 My own children come home from their French elementary school for lunch. Sharon is 4, half the age of my 8-year-old twins but already half a head taller than Ilsa. Elliot, nearly 10, is having the hardest time with her being here, but they're all struggling. They loved her parents, both of them. How can someone they trusted, called "uncle" affectionately, went boogie-boarding with in the strong Atlantic currents, ate spicy Ivorian food with, have stabbed their "auntie" in the heart while their daughter slept in the next room? The presence of Sharon, the amount of my attention she takes up, is hard for them—they are not greedy children, and they understand, but they are hurting too and they need me. I am not there. I am gone, with Sharon, to view the body (a counselor said this might help her understand the fact of death); with my husband, navigating the complications of a legal system in a dusty undeveloped country where the constitution is half-based on tribal law, half-based on Islam, and thoroughly corrupt so that, even after he confesses to murdering his wife, he is given a one year sentence. He worked with us at the English center and stole a grant we'd just received, and we have no doubt that this explains that short prison sentence. He committed the crime on the twins' 8th birthday and was released from prison on their 9th birthday.
He now lives with a couple of whom the wife was formerly Yolande's best friend. This hurts me still.
His daughter wears Ilsa's t-shirts instead of her own clothes and looks at a family picture of the 5 of us. "Where am I?" she says. She holds her arm next to mine, thinks for a long time, and then goes to the bathroom and begins scrubbing, hard. This breaks my heart anew. She is so beautiful. A woman comes by to braid her hair, so she'll look nice for her mother's memorial service. She cries and cries until Ilsa, smiling, holding her hand, sits to have her hair braided too.
I try to journal once while holding her. She takes my pen. NO NO NO NO NO NO NO NO she writes, wobbly preschool letters following the lines on the page.
That year, by Mother's Day, Sharon is gone, back to the country of her birth, to live with family known to her only through phone calls and framed pictures on polished side tables. That year, I feel like I was meant to be mother of 4 but am left with 3, a perfect 3 yes, but with one missing all the same, never to be found again. I find a forgotten tiny flip-flop in the sand at the end of the porch but I don't cry. I just stare at it for a long time, and then go lie down on my bed.
This essay was inspired by the writing prompt "Sensory Details." I'd planned to write something quite different, but I sat down and suddenly memories of Sharon came pouring out. I've never written about her before. She lived with us for a month, but she changed the shape of family for me forever. I have had no news of her since she turned 6. She would be 11 now, but her country has experienced a lot of unrest. I hope and pray she is well and that she has forgiven me for letting her go with her grandmother and aunt, even though we all know logically that was the best choice.
Remember to leave a comment if you'd like to be entered to win a copy of Use Your Words: A Writing Guide for Mothers.
Book blogger Elizabeth is celebrating Mother's Day with her 3; Elliot, who will be 17 this summer, and twins Abel and Ilsa, 15. Learn more about her life in Mauritania, Morocco, and America at her blog Planet Nomad.