This post may contain affiliate links. Read my disclosure policy here.
When you have a family, it can sometimes be hard to get everyone talking when you want them to.  For our family, dinnertime is our time to chat about our day or anything else that may come up.  Even still, there are times that conversations need a little help getting started.
Since my children are so young, finding topics that keep them interested can be a little more challenging.  However, when we make talking seem more like a game for them, they have fun with it.  That is why I love TableTopics.
TableTopics is a company that creates conversations for any setting in an instant.  The first TableTopics cube that I ever purchased was one for families.  I wasn't sure what to expect, but I was hoping it may have questions that we would find interesting and fun to answer together.  The good news is, that is exactly what it turned out to be.  Since that first purchase my collection of cubes has grown.  As a matter of fact, I have even begun to branch out to TableTopics To Go.

I recently had the opportunity to check out the Happiness Cube by TableTopics.  It was one that I had been wanting to try, but just hadn't gotten around to purchasing.
I am not sure about the rest of you, but there are certain days that I can really use a pick me up.  This particular cube is perfect for those times.  The questions you will find in the "Happiness Cube" help to get your mind focused around the things that make you happy.
With questions like, "Who has the most beautiful smile in the world?" and "What's the happiest song ever written?", you are sure to find yourself smiling at your answers.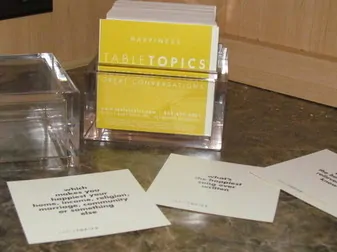 On the other hand, the questions in this cube are also thought provoking, like "How do you unnecessarily spend money?" and "What everyday problem bothers you?".  When I first read some of the questions, I thought, okay my answers aren't making me very happy.  However, then I realized that if you turn the cards over, they share a tip with you.  For example, on the card about unnecessarily spending the money, the tip is:  Live in a place where you won't have pressure to buy anything more than what you have.  I love that it guides you to find a place where you can be happy.
You can find the Happiness TableTopics Cube on their website for $25.  The cube contains 135 questions and is recommended for ages 12 and up.
If you are looking for ways to get conversations flowing, while creating happiness for yourself and others, the Happiness Cube is a great solution.
Connect with Table Topics
Enter to win your very own Happiness Cube from Table Topics
Use the Rafflecopter below to enter this giveaway. Remember, the more ways you enter, the better your chance of winning.
This post was written by 5 Minutes for Mom contributor Laurie. You can find Lauri blogging at Guessing All the Way.