This post may contain affiliate links. Read my disclosure policy here.
Today, Heather is going to share some great tips on keeping ourselves, and our kids, shielded from the sun. Sunscreen should definitely become a priority with summer here.
Did you know that only one blistering sunburn during childhood more than doubles your chances for Melanoma as you get older? Research says that up to 90% of skin cancers are caused by over exposure to the sun, which means they are completely preventable!
Now, I know that I'm not always great at putting sunscreen on myself, but when it comes to my daughter, it's a whole other story! At only 10 months old, she depends on me to keep her safe from the harmful UV rays, since she can't herself. Infants are especially at risk for sunburns because of how thin and delicate their skin is. So what can you do to protect your little one this summer?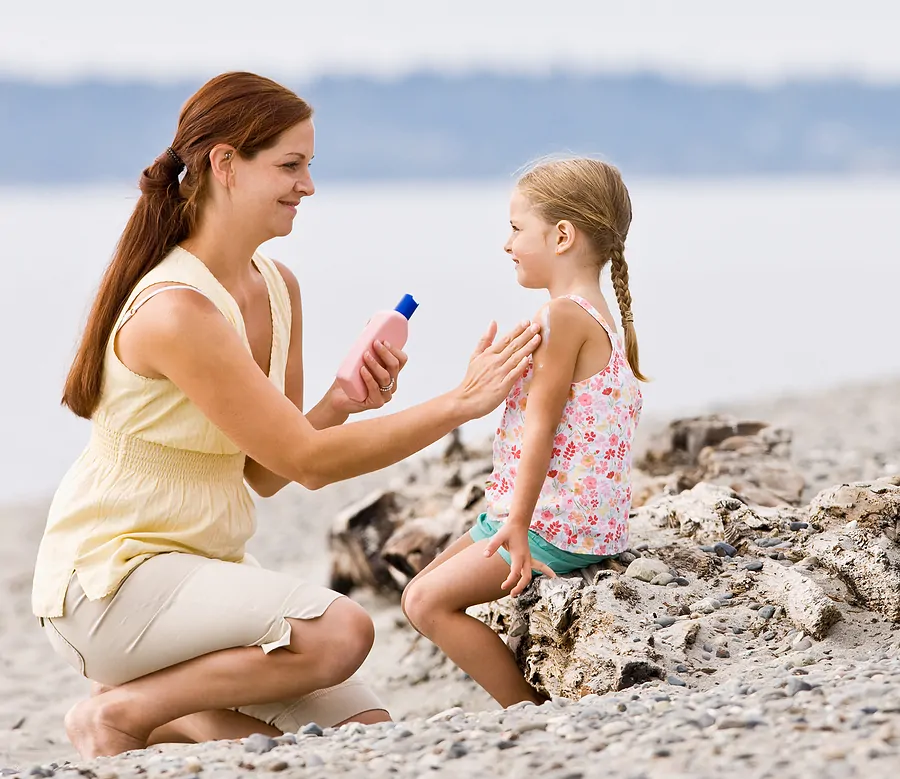 Image courtesy of Bigstock
Limit Mid-day Activities
The sun's rays are most powerful between 10 am and 3 pm, meaning they can cause the most damage in the least amount of time so it's best to stay out of the sun during the middle of the day.
Slather Up
There are dozens of sunscreens, all formulated for different needs. Pediatricians recommend an SPF of 30+, however, I tend to stick to 50+, make sure it's waterproof, and (especially for younger children), formulated for sensitive skin. Remember sun screen should be applied before going out, not once you are already out.  The body needs time to absorb the sunscreen. Make sure you are applying it throughout the day as well, even sunscreens that claim to be "sweatproof and waterproof". Babies under 6 months should use sunscreen sparingly, rather utilizing shade and wardrobe instead. Speaking of wardrobes…
 Cover
I know it's tempting to get caught up in the cute itty-bitty bikinis made for infants but, cute factor aside, they are not the best option.  You should look for "rash guard" suits which offer more coverage for baby's skin. Buy a hat with a wide brim.  The wider, the better and if you can get baby to wear 100% UV blocking sunglasses, even better. Not only will your child be protected from the sun, but they will be adorable!
All Shade Was Not Created Equal
Opt to stay in the shade as much as possible, and if possible, utilize a beach umbrella rather than tree shade, as UV rays can still get through! Portable tents are another great option!
Get That Kid A Drink
Just because babies can't speak, doesn't mean they won't tell you when they've had enough. Fussiness or being overly sleepy are signs that the baby may have gotten too much sun. Make sure they are staying hydrated as well, offering extra formula or breast milk for babies, or juice or water for older children.
Summer and sunshine go hand in hand, and as long as safe practices are exercised, there's no reason not to enjoy both! So grab a cute suit, some sunscreen and enjoy!
Heather is a 20 something new(ish) wife and new(er) mom. Her blog has gone from an outlet of isolation to a pregnancy tracker to a new baby updater and is finally transforming into an extension of herself. She's a full time working mom whose half way through her Masters. She writes about what books she's reading, her 10 month old's achievements, and what she loves at Target, the possibilities of her posts are endless! If you want to check her out beyond her blog (www.hgifford.blogspot.com) , you can find her on Facebook (www.facebook.com/keepingupwiththegiffords) and Twitter (www.twitter.com/mrsmamagiff)