This post may contain affiliate links. Read my disclosure policy here.
Have you ever watched a small child stack cans, blocks or building bricks? You can see the expression on the child's face. That child is a picture of concentration. What is he thinking?
If I stack the blocks this way will the tower stay up?
If I stack the blocks that way will the tower fall?
Can I stack 3…4…5…6…or 10 blocks?
When will the tower fall down?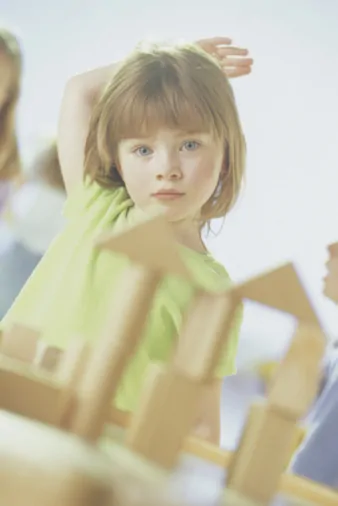 Learning truly does happen through play. I remember my oldest child stacking blocks at her grandmother's house. She used the wooden blocks to create a road for her cars, a house for her dolls, even a tea set. She once even made a make believe bridge and walked on top of the blocks…she was little enough that her tiny feet fit perfectly on the flat wooden blocks. She loved that small cloth bag of blocks. So did her brother and sister and cousins.
Blocks allow for endless play and children learn through play. Blocks are the perfect toy to grow with your child. I recently received an enormous bucket o' blocks from Back to Blocks. The bucket o' blocks came in a box that became a playhouse for my son. He rolled around the kitchen in the box. Never seen a kid have so much fun until…he opened the bucket o' blocks. Oh my, was he surprised with what he saw inside.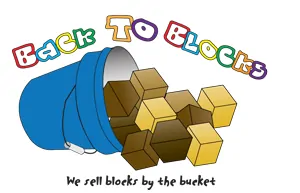 My son dug straight in to the blue bucket and pulled out handful after handful of blocks. Eventually he dumped the whole bucket on the floor. He was mesmerized by all the different shapes and sizes. He held piece after piece in his hands, examined the edges, placed one piece and then another, and yet another on top of each other. The pieces were long., flat, chunky, curved, archways, roof shaped, and many other shapes and size. It was more than a bucket o' blocks, it was a bucket o' fun!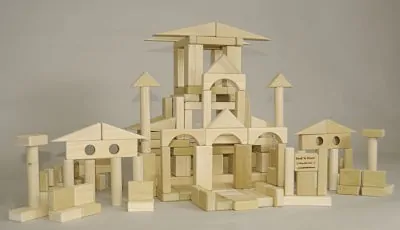 Back to Blocks sent me the Wooden Block Set "Fun With Friends." Blocks come in 20 different shapes and sizes and have over 160 pieces. The "Fun With Friends" retails for $110.99. The blocks are stored in a 5-gallon bucket — white, yellow, blue, and red.
Want to learn more about the Back To Blocks?
Search Back To Blocks for the perfect block toy.
Look for special offers on blocks.
Enter to win your Own Bucket of Fun from Back To Blocks
5 Minutes for Mom will be giving away a Fun with Friends Blockset. Use the Rafflecopter below to enter this giveaway. Remember that the more ways you enter, the better your chances are of winning.
a Rafflecopter giveaway
  I was sent the Fun With Friends set to facilitate my review. I was also compensated for this post. The views expressed in the post are my own. I follow the tenets of Blog With Integrity. 
Jill Berry @MusingsfromMe is a writer who stays at home or a SAHM who writes…it depends on the day and her mood. While playing a writer on the internet, Jill has the gray hair AND blogposts from raising a kid, a preteen, and a teen. When not blogging at Musings from Me, Jill seizes family time whenever she can…dinner as a family, movie night, marathon family game sessions, traveling…you name it she wants to do it.