This post may contain affiliate links. Read my disclosure policy here.
Written by 5 Minutes for Mom Contributing writer, Kari Crum.
I recently had the opportunity to visit the Hilton Sandestin Beach Golf Resort & Spa in Destin, Florida. My eleven year old son, Zachary, accompanied me on this fun-in-the-sun get-away. Hilton Sandestin invited a small group of mommy bloggers and their kids to come check out their resort and all that it has to offer.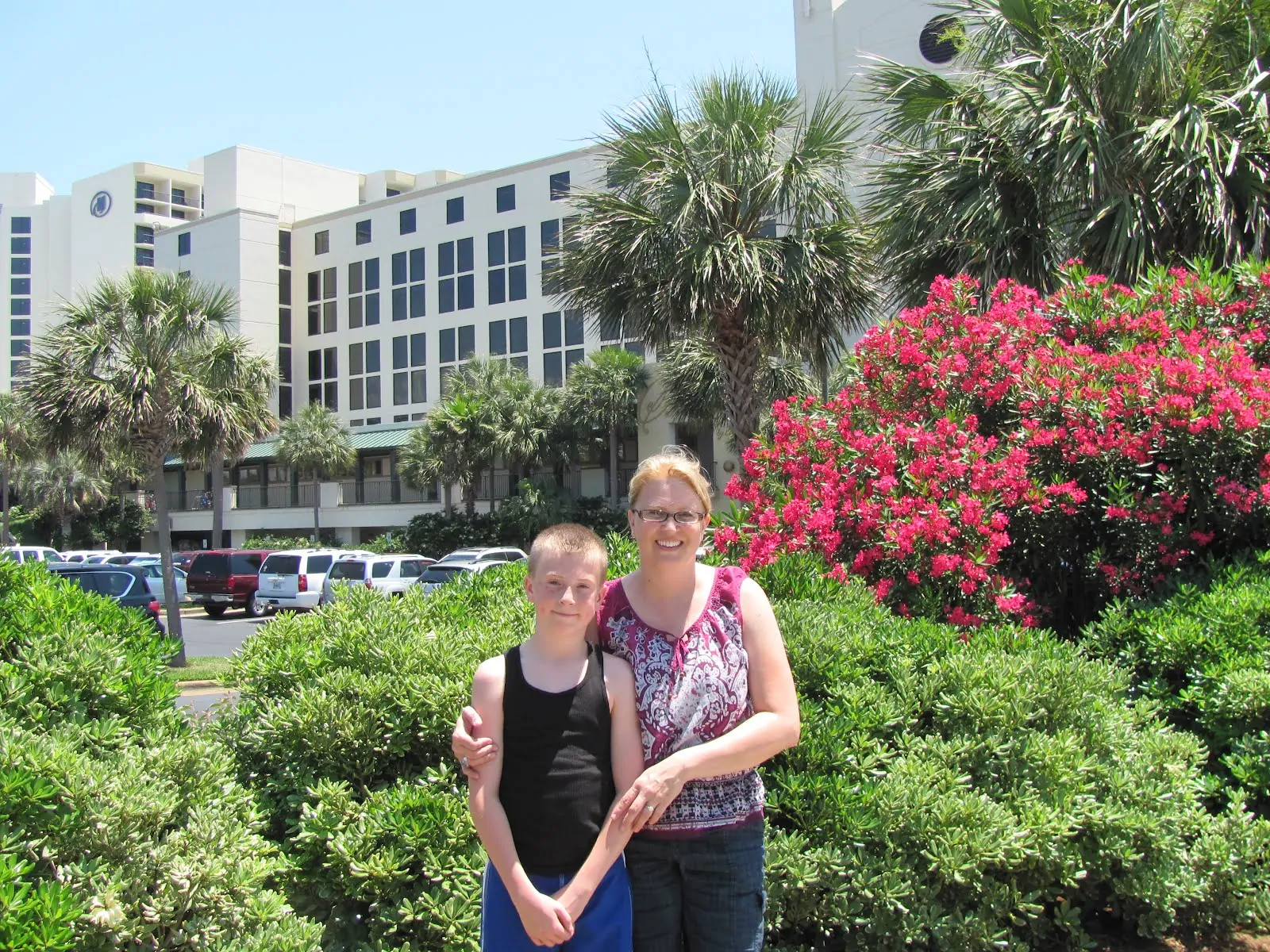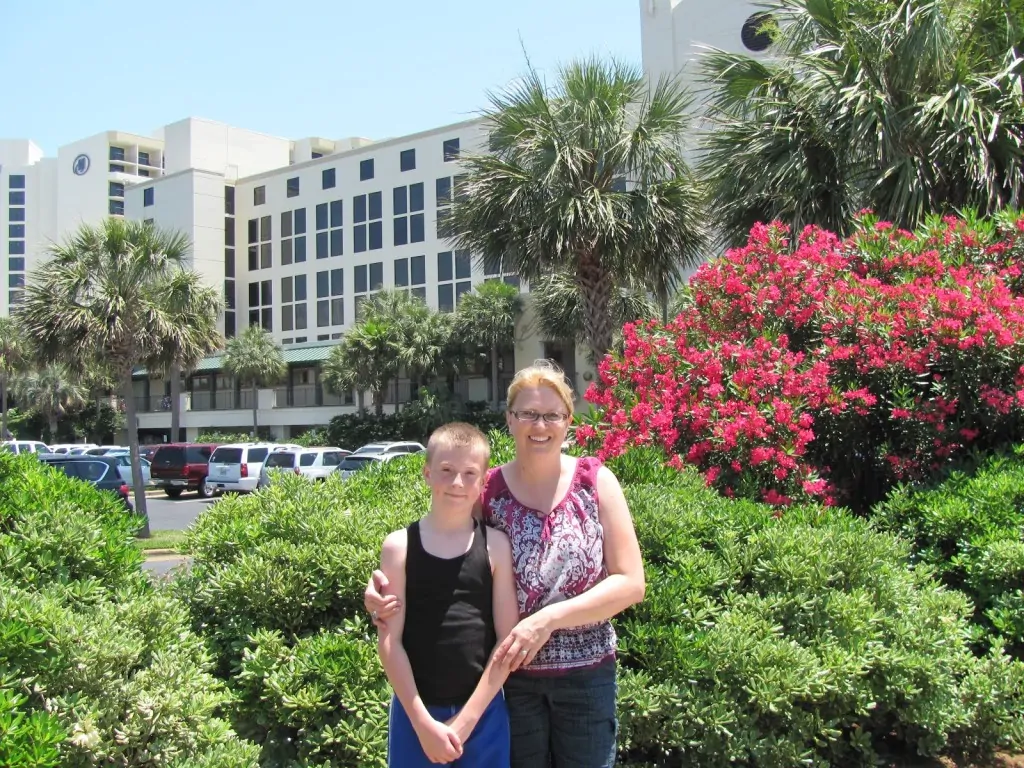 Sandestin, an upscale resort community located in the pandhandle of Florida, consists of both vacation and residential properties. The Hilton Sandestin, Northwest Florida's largest full service beachfront resort, is one of these vacation properties. It's bordered by the beautiful emerald green waters of the Gulf on one side and the Choctawhatchee Bay on the other. The resort offers 598 deluxe guest rooms and suites, all with partial or full gulf views. It also boasts six restaurants, three heated swimming pools (one indoor), an awesome 20,000 square foot beachfront deck, two whirlpools, a kiddie pool, and a luxury spa and fitness center. There is golf, shopping, and lots of outdoor recreational activities, including biking, tennis, beach volleyball, miniature golf, and more.
Our room was a Junior Deluxe Suite located on the 12th floor. Upon entering the suite, I was instantly impressed – it was so spacious! The generous size is especially nice for those of us with larger families. I can also see how the bunk beds would be a big hit with kids. Some of the features of the Junior Deluxe Suite include king or two double beds, a queen sleeper sofa, bunk beds, refrigerator, microwave, coffee maker, hair dryer, lighted makeup mirror, wireless internet, and premium cable tv.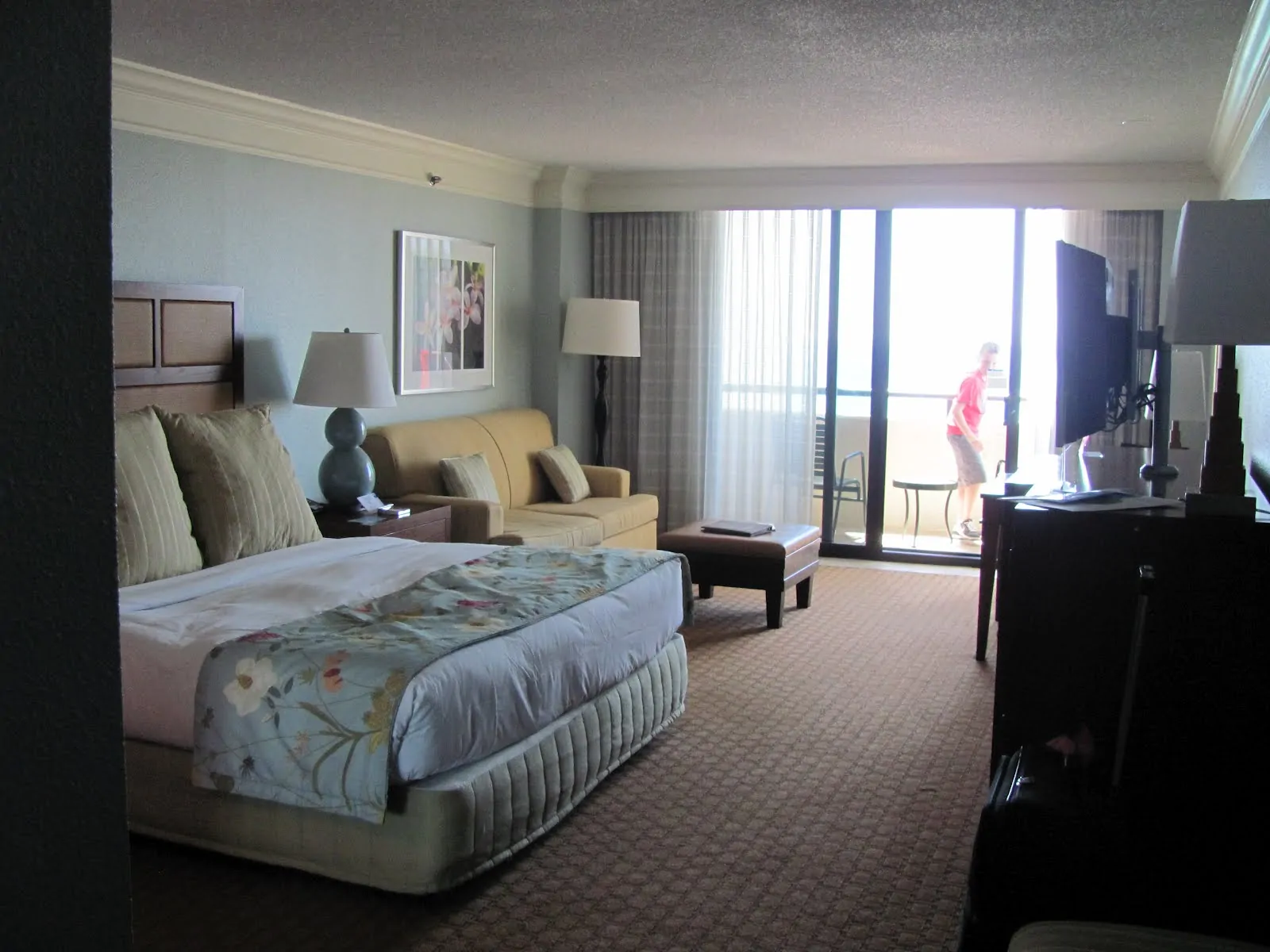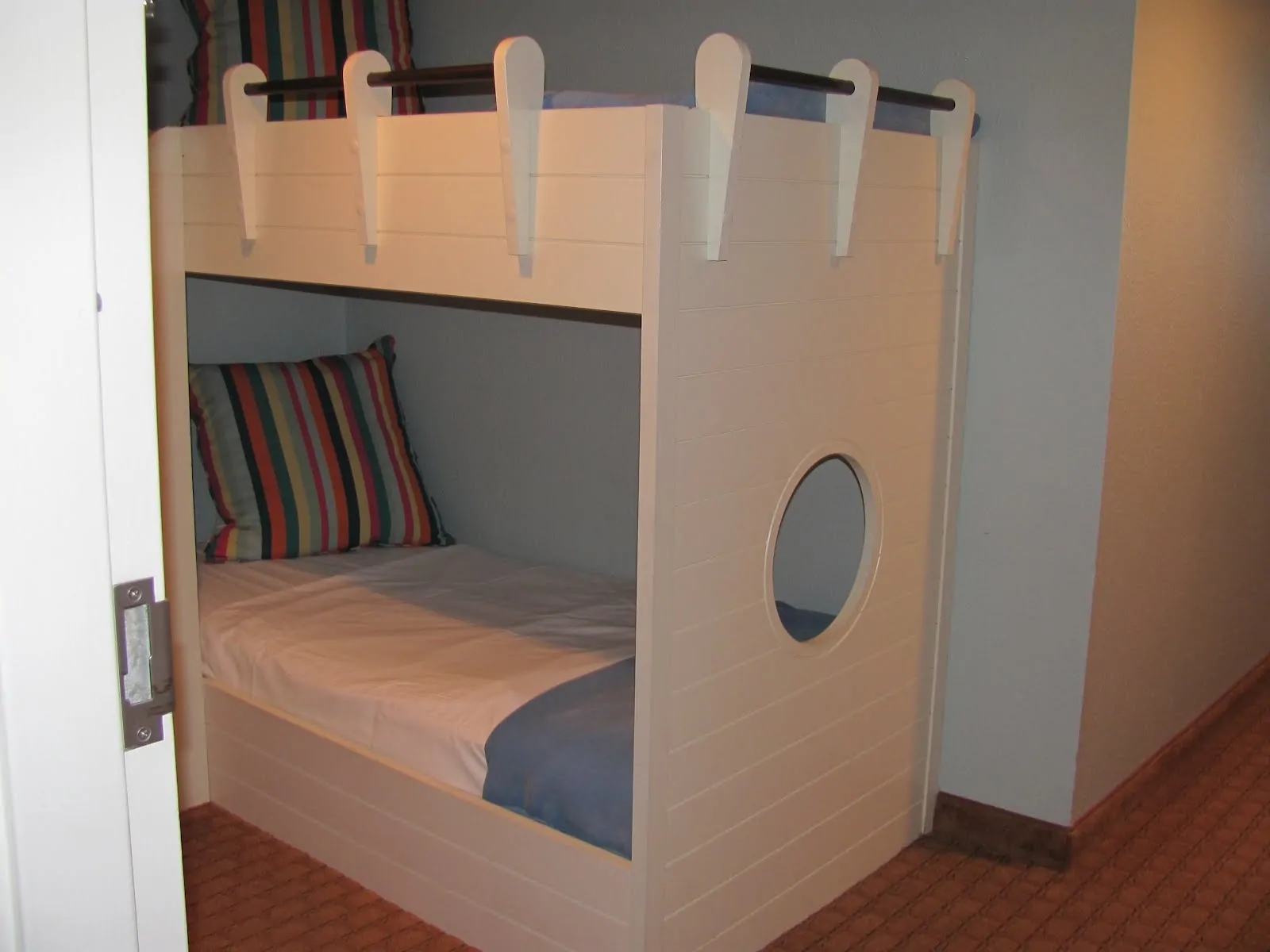 And, when we saw the views from our room, we were really blown away. They were incredible! The colors of the ocean are so vibrant – the prettiest emerald blue color I've ever seen! Check out what we got to look at every time we stepped out onto our balcony…
The bathroom was nice and clean and I really liked that there was another sink and mirror area just outside the bathroom.
One of the bonus amenities that I really appreciated were the large, plush beach towels that the Hilton provides for their guests. It seemed like no matter where we were, we always had fast, easy access to all the fresh towels that we needed.
Remember that 20,000 square foot beachside deck that I mentioned, well let me tell you, it was one of my favorite parts of the resort. There were just so many options with all that space. I laid out right next to the pool where I could keep an eye on Zachary as he swam. Another time, we chose a spot right in the front where we could relax and listen to the ocean. And, yet another time, we enjoyed some ice cream in a spot close to one of the restaurants.
The deckspace can also be used for private events. We were lucky enough to see two weddings on the beach and they had part of the deck reserved for their receptions. Very romantic! On our last night, our group of mommy bloggers and kids met up on the deck for smores at twilight. It just doesn't get much better than that!
Our trip to the Hilton Sandestin was truly one we will never forget. I can honestly say that each and every staff member I encountered was very friendly and went out of their way to make us feel welcome. The accommodations were top notch and the grounds were stunning. This is definitely a place I will recommend to family and friends who are looking for a wonderful beach vacation. (Did you know that Conde Nast Traveler magazine named the Hilton Sandestin in the "Top 150 U.S. Resorts?)
Stay tuned for parts 2 and 3 of my trip. There I'll tell you more about our time there and my time at the Serenity by the Sea Spa (oh, how I loved the pampering!). I'll also introduce you to "Sunny the Sea Turtle" and fill you in on the Kids Krew – a Hilton Sandestin program for children ages 5-12.
Hilton Sandestin invited me and my son for a free stay. I was not obligated to write a positive review. All opinions expressed in this post are 100% my own. 
Written by Kari Crum. You can find her here: