This post may contain affiliate links. Read my disclosure policy here.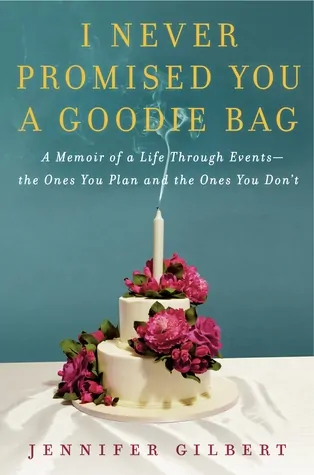 Jennifer Gilbert seemed to have it all – an affluent upbringing, a great education followed by post-college travel to Europe, and plans to take the Manhattan business world by storm upon her return. Then suddenly, all of her dreams were interrupted by a vicious attack that left her almost dead from multiple stab wounds all over her body.
This attack, and the years that followed, are the subject of her book, I Never Promised You a Goodie Bag: A Memoir of a Life Through Events–the Ones You Plan and the Ones You Don't. As her body recovers, Jennifer suffers from night terrors and ongoing phobias that don't go away even when her attacker is found and imprisoned to await trial. She tries to escape her new reality by moving to Boston, but soon decides that she must return to New York and prove to herself and everyone else that she can make it. Unfortunately, the only way she can do this is to stuff all the negative emotions down deep and present herself as a whole new Jen.
Wearing what she calls her "Jen suit," she takes a job as an event planner and immerses herself into her work, revolutionizing the business model in a way that propels her to the top of the heap and eventually leads her to start her own company. After running as hard as she can in the other direction for three years, however, the time comes when she must testify against her attacker at trial. Finally, Jen realizes that she has to deal with her ordeal and begins to see a therapist who helps her face her darkest fears and start the emotional healing process.
Throughout the book, Jennifer is candidly open and honest about how she – and those around her – dealt with her pain. We see the forward strides as well as the steps backwards as she does her best to hold herself together and regain her joy and peace in her life. In addition to her insights about her personal journey and close relationships, we also see how she brings the lessons she has learned to her professional life as an event planner.
While Jennifer's story centers around a painful experience, her writing is filled with the determination and hopefulness that she has fought to recover in her life. I found myself constantly reaching for a pen to underline or mark some of the gems like these:
Everything in life is relative, and…perspective only comes after the crisis.
Never "at least" someone else's pain away. Let them have it, feel it, and then try to alleviate it.
If you spend your time measuring your reality against your fantasy, you're inevitably going to lose the joy of just being in that moment.
I highly recommend I Never Promised You a Goodie Bag; you won't be sorry to have opened yourself up to this testimony to the strength and resilience of the human spirit. Definitely a 5-Star Read (check out our page for the rest of the books that we rate the best of the best).

We have a copy to give away to one of you! Just leave a comment if you'd like to win. We will announce the giveaway here in this column on May 21.
The winner of Help Wanted: Moms Raising Daughters is #68 Shirley Pebbles.
Trish would like to thank HarperCollins for the opportunity to review this book. You can find Trish seeking her own life lessons at her blog, In So Many Words.