This post may contain affiliate links. Read my disclosure policy here.
Lolli here….if you happen to read my blog or follow my twitter or Facebook accounts, you'll know that I just got home from a 6-day trip to Florida where, among other exciting activities, I was able to attend the red carpet premiere of Disneynature's newest movie, CHIMPANZEE.
As a simple girl who has spent the majority of her adult life changing diapers and cooking dinner (both very noble things, mind you), I am always thrilled to have the chance to participate in events like this. Who would have guessed 10 years ago that I'd be walking down the red carpet with Dr. Jane Goodall and stars from my kids' favorite Disney Channel shows?
Before I even made it to the red carpet, I spotted two of my kids' favorite Disney Channel actresses, "Rocky and Cece" from Shake It Up.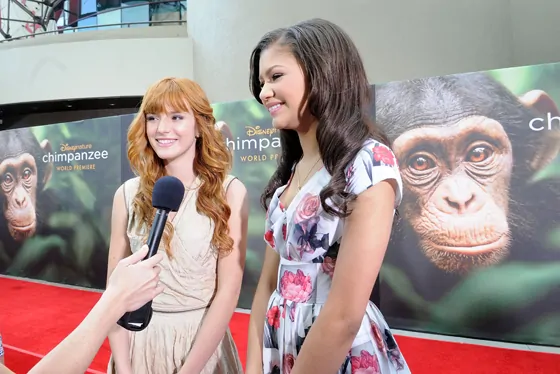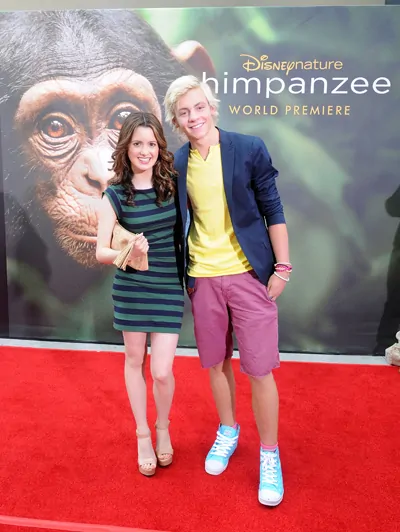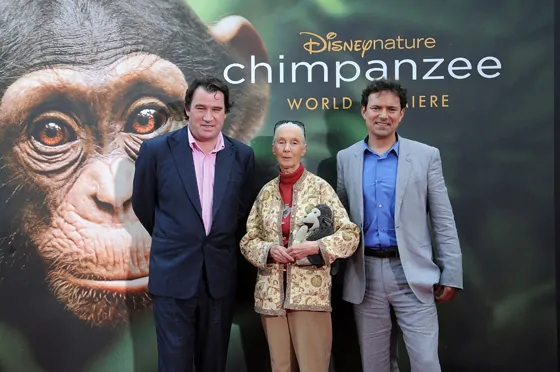 Check out my red carpet post for more pictures (I got to play paparazzi!)
Chimpanzee Review
Simply stated, I loved the movie, and I am counting down the days until it opens so that I can take my kids to see it in the theaters, too. I have enjoyed everything that Disneynature has produced so far – their productions are always top-notch. I instantly fell in love with the film's main character, Oscar, a newborn chimp in the forests of West Africa. Chimpanzee follows Oscar and his family over approximately 700 days – and it is all at once endearing, thrilling, amusing and educational. I learned quite a bit about chimps, but I didn't feel like I was learning. I felt like I was being entertained.
Oscar is adorable and reminded me so much of a human baby and toddler. He is playful and curious and smart. The relationships and interactions between Oscar and the other chimpanzees in his group surprised me – and reminded me that we (chimps and humans) really are very similar.
The cinematography was breathtakingly beautiful and the narrative (by Tim Allen) was perfectly executed. Seeing this visually fantastic on the big screen was a huge benefit (although I know I will still enjoy it as a movie at home…).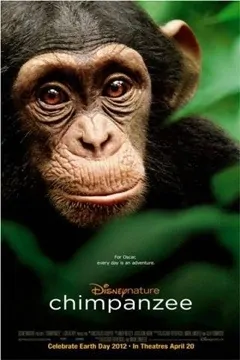 Who should see Chimpanzee?
Chimpanzee is rated G for general audiences, but I would recommend it for children (and adults!) who can sit through a movie. If your young children have a hard time sitting still through an animated movie, Chimpanzee might be difficult for them to sit through. However, I think many young children will simply enjoy watching Oscar, the cute little toddler, and his antics.
See Chimpanzee, Save Chimpanzees
Chimpanzee opens on Friday, April 20, 2012. See Chimpanzee during opening week (April 20-26) and a donation will be made in your honor to the Jane Goodall Institute to help protect chimpanzees.
Connect with Chimpanzee and Disneynature:
http://disney.com/Chimpanzee
http://twitter.com/Disneynature
http://facebook.com/DisneynatureChimpanzee
Written by 5 Minutes for Mom writer, Lolli. You can find Lolli blogging at Better in Bulk and tweeting at @1momof5.
Disney and Global Resort Homes invited me to Florida to attend the red carpet premiere of Chimpanzee and other events this past week. My travel and most expenses were paid for, but as always opinions are my own. I'm just adding this movie review on 5 Minutes for Mom to get the word out to more people!