This post may contain affiliate links. Read my disclosure policy here.
There is nothing that can make home decor pop like window treatments. Anytime I am redecorating, that and paint are the first two things I always change.
According to home decorating experts, light significantly impacts the way a space looks, and how we feel when we are in it.  Good lighting adds brightness, bringing warmth and cheeriness to a room.  As such, selecting the right window treatments requires striking a balance between how much your window treatment protects privacy and maximizes the amount of natural light.
BrylaneHome® offers affordable, and more importantly, beautiful options for those who want to spice up their home with new window treatments. They can transform your home by bringing sophistication, style and splashes of color into any room. The many options, including drapes, blinds, curtains, shades, valences and accessories, make choosing the perfect window treatment simple. Sales, free shipping promotions and other discounts from BrylaneHome® make it easy on your pocket to update the look of your home.
New Designs Available
The new Scenerio Selection from BrylaneHome® is one of the most colorful yet. The Scenario® Sheer Voile Scarf Valance and Rod-Pocket Panels bring a light, airy look and feel to any room are available in 19 colors and priced from $4.99 to $19.99.
 Scenario® Cotton Canvas Striped Rod Pocket Panel
A BrylaneHome® exclusive, these curtains feature beautiful stripes in heavyweight, 100% cotton to provide a fresh, crisp look on any window. Offered in six colors and priced starting at $15.99.
Scenario® Cotton Canvas Solid Tab-Top Panels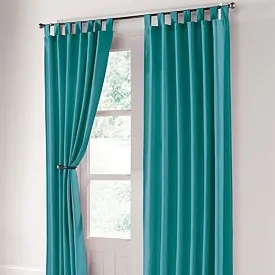 Pure, heavyweight cotton creates a uniform look with a beautiful drape. Machine wash/dry; prices start at $12.99.
Scenario® Voile Tab-Top Panels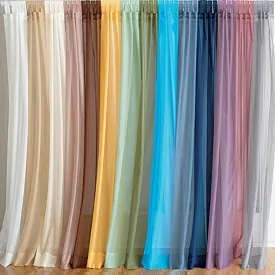 Designed in easy care polyester to create a soft appealing glow that brightens any room, these tab-top panels define your windows with style and flare.  Available in 14 colors and priced at just $8.99, these panels are perfect for spring.
Sheer Voile Toga Valance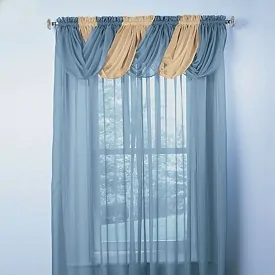 Made of polyester machine-washable fabric and available in 18 beautiful colors, this valence will add just the right touch to any re-decorating project, especially priced at $11.99.
Shopping with BrylaneHome® for window treatments is a breeze. Search by category, narrow down by color, and then sort by price and customer favorites. You'll find customer reviews on many of their items, which is helpful in making a choice. Shop 24 hours/7 days a week by using the Customer Service phone number – 1-800- 544-3793.
BrylaneHome® also assists you with instructions on measuring your windows to find the -flawless fit for your window treatment, with choosing inside or outside mounting and with providing decorating tips. Change the look of your existing window treatments with new curtain rods and drapery hooks. The decorating tips are essential to transforming your home's appearance of space for example, to widen or lengthen the look of a window.
Besides design options, consider energy efficient window treatments that keep warmth inside during cold weather and hot air outside during the summer. Maintain your privacy with black out curtains. Choose one-rod window sets to save money and time.
Don't forget the discounts. Use the defer payment option with a BrylaneHome® credit card. Search the clearance section, tent sale and bargain sections for low price treatments and accessories. BrylaneHome® is offering customers 15% off their entire order from now until 4/30/12 with coupon code BH15OFF.
Customers can also join the thousands of fans who are following BrylaneHome® on its Facebook  and Twitter pages.
Add an addition to your home without breaking the bank. BrylaneHome® window treatments provide decorating essentials for your home, apartment and special room.
This is part of a promotional campaign with Redcats USA for Brylane Home. All opinions are our own.
Written by Connie Roberts.