This post may contain affiliate links. Read my disclosure policy here.
April is Sports Eye Safety Month.
Just how often do we think about protecting our eyes though?  Did you know that sports-related eye injuries range from abrasions of the cornea and bruises of the lids to internal eye injuries, such as retinal detachments and internal bleeding?  Or that most youth sporting leagues don't require children to wear eye protection?
My son just started playing baseball this week and as you probably already know, no eye protection is needed.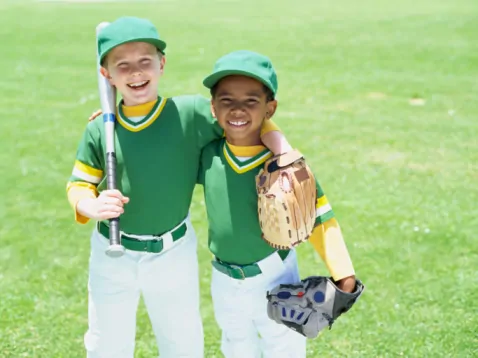 Did you know that even a seemingly light blow can cause a serious eye injury? If a black eye, pain or visual problem occurs after a blow, you should contact an ophthalmologist (Eye M.D.) to seek emergency medical help immediately.  In all my years of growing up playing sports I can't tell you how many eye injuries I have witnessed, including one particularly horrible one on the hockey field in high school.  Again, we had no eye wear then.
Protective Eye Wear Could Prevent 40,000 Injuries Each Year
Baseball, Basketball and Racquet Sports Most Common Culprits, According to the American Academy of Ophthalmology:

Playing sports is good for your health, but for too many athletes, a game also can lead to a health disaster when an eye injury damages their vision. Every year, more than 40,000 Americans injure their eyes during sports and recreational activities such as baseball, basketball and tennis. Unfortunately, approximately one-third of those eye-injury victims are school-aged children.
The American Academy of Ophthalmology – the world's largest association of eye physicians and surgeons – through its EyeSmart® program, is reminding the public that the only way to prevent a sports-related eye injury is for athletes to wear appropriate, sport-specific protective eyewear properly fitted by an eye care professional.
Recommended are lenses made from polycarbonate materials, which provide the highest level of protection; they can withstand the impact of a ball or other projectile traveling at 90 miles per hour. Proper eye protection is widely available for a variety of sports including hockey, football, lacrosse, and water polo, as well as racquetball, soccer and downhill skiing. Always choose eye protection that has been tested to meet the American Society of Testing and Materials (ASTM) standards.
About EyeSmart: The American Academy of Ophthalmology's EyeSmart® program educates the public about the importance of eye health and empowers them to preserve their healthy vision. EyeSmart provides the most trustworthy and medically accurate information about eye diseases, conditions and injuries.
Visit Get Eye Smart (or OjosSanos™ for the Spanish-language version of the program) today and lets keep those eyes safe!
This is part of a promotional campaign with Eyesmart. All opinions remain my own.