This post may contain affiliate links. Read my disclosure policy here.
Spring is finally here!
Are you looking for a way to restore the shine to your home after months of being stuck indoors with the family?
According to one survey, nine out of ten moms admit they have either a basic, or no understanding at all, of how to care for their furniture.  You can count me in with that no understanding at all.  My kids have done a number on just about everything I own and I don't know what to do to bring it back.
Guardsman says that with the right care, your furniture can look its best for years… whether it's a fabric, wood, or leather repair! The secret to achieving that is simple — treat furniture in the same way you would take care of yourself, with a furniture beauty routine that includes cleansing, polishing and, of course, covering those tiny imperfections.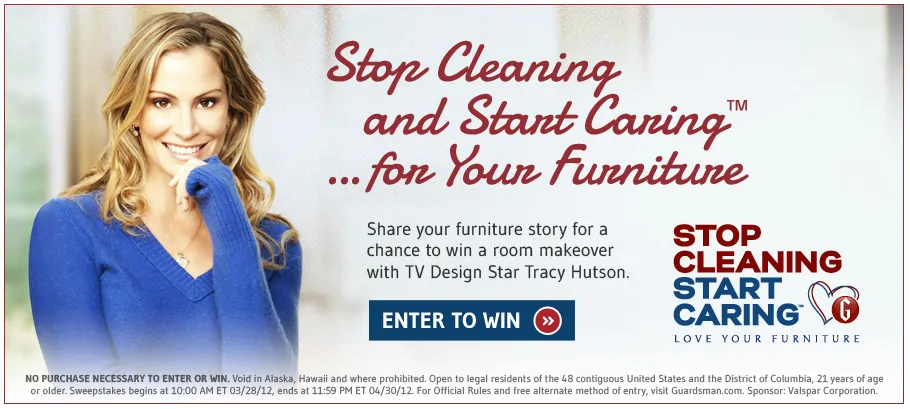 To celebrate furniture's new beauty routine, Guardsman is offering you the chance to win a personal design session at home.  The design session comes complete with $1,500 room re-accessorizing and shopping experience with TV Design Star Tracy Hutson from Extreme Home Makeover and suite of Guardsman products!
Visit Guardsman to enter.  All you need to do is share a story about your favorite piece of furniture and make a promise to care for it the same way you care for other things you love.  Include the photo. Guardsman looks forward to seeing your pictures and reading your furniture stories.
This post is part of a promotional campaign with Guardsman. All opinions remain our own.