This post may contain affiliate links. Read my disclosure policy here.
My husband and I have prided ourselves on staying well from sickness for the past 5 years. Everyone around us has been sick with either sinus infections, allergies, the flu, cold, stomach virus — you name it and they have had it. It wasn't until we moved into our new home that we noticed all of our family members suffering from swollen nasal passages and itchy throats as well as watery eyes.
Since we were pretty much homebodies when we first moved here, we knew it was not something we had caught from someone persay, but from something, so we started looking around our home for the culprit.
The results? Yep — you guessed it –the carpets!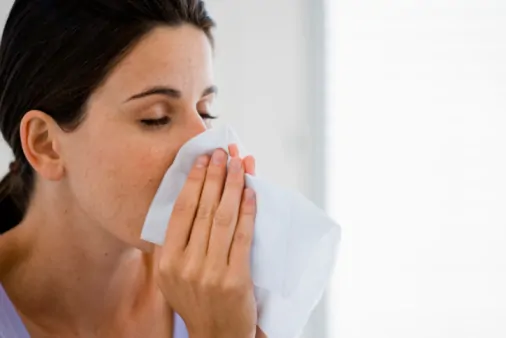 HOME CLEANING IS NOTHING TO SNEEZE AT
Spring is here, and allergies are on the rise. Experts predict that spring of 2012 could be the worst allergy season in 10 years because of a relatively mild winter. Allergy season has already kicked off, causing many allergy sufferers to start taking medications earlier than normal.
Doctors have traditionally cautioned parents to remove wall-to-wall carpeting in their homes as a way to limit exposure to allergens. But a recent study, presented during the American Academy of Allergy, Asthma & Immunology 2012
Annual Meeting, has raised significant doubts about the incidence of surface and airborne allergens. In the study,
scientists measured higher levels of cat and dust mite allergens floating in rooms with hard floors, compared to carpeted floors that were cleaned through diligent vacuuming and water extraction.
Despite their good intentions and best efforts, Americans doing their Spring cleaning might make the home look or smell better on the surface, but vacuuming and cleaning machines remove a relatively small portion of the dirt, dust and particulates that cause allergic reactions. To combat allergy season and truly make their homes clean, consumers should consider a cleaning by professionals to make a deeper impact this spring.
Dirt is Like Tooth Decay
"Dirt never quits. It's like tooth decay," said one service technician from Stanley Steemer, the nation's largest deep
cleaning service. "To make the home truly healthier and cleaner, people should call in the pros, because we're equipped to take more dirt and particles out of the home."
How to Maintain a Clean, Healthier Home

After more than 60 years in business, Stanley Steemer knows dirt, and in 2011 their technicians removed more than 200
tons of dirt from American Homes. Their experts in the field offer these tips for maintaining a cleaner, healthier home
throughout allergy season:
• Vacuum heavy traffic areas 2-3 times a week and the rest of your carpets once a week
• Use indoor and outdoor entrance mats to reduce the amount of dirt that enters your home
• Clean dust and loose dirt from the bottom of the window sills, to prevent it from blowing in
• Vacuum under area rugs periodically; to help periodically remove any loose dirt that might be trapped
• Schedule a professional deep cleaning every six months to help maintain the value and health of your home
For more information about spring cleaning or to engage a professional cleaner, readers can call 1-800-STEEMER or log
on to www.stanleysteemer.com
This post is part of a promotional campaign for Stanley Steemer. All opinions are our own.