This post may contain affiliate links. Read my disclosure policy here.
I have been working my butt off trying to get our home clean. During the winter months, I get really lazy and kind of let things slide (like cleaning the mini blinds, woodwork, etc). I usually do plenty of spot carpet cleaning with our little small handheld vacuum but, like I said — this year I have been totally lazy and you can really tell it.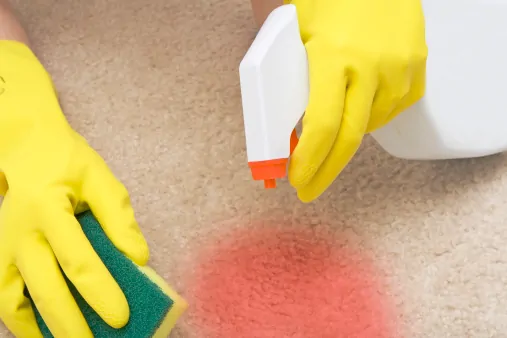 The one job I hate doing the most is cleaning my carpets. I guess the reason is because I have dogs that live in my home and well, we all know that dogs (especially male dogs) can leave a mess and if you don't get it cleaned up properly — it can cause serious carpet issues and create a smell that is not very inviting.
That is why I am glad that I can count on companies like Stanley Steemer to help me get the job done. Just this week, they shared this information with me!
Are You Spring Cleaning?
Now that Spring is here, the ritual of "Spring cleaning" begins for many. In a recent national poll commissioned by Stanley Steemer, the nation's largest deep cleaning service, nearly half of respondents predicted spending less than four hours total on this year's spring cleaning. In fact, almost three in four (74%) can name at least one less-than-enjoyable task they would rather do than the annual ritual; some would even prefer to endure the physical pain of root canal. Yet only 19 percent reported having ever used a professional for cleaning.
Despite their good intentions and best efforts, Americans doing their spring cleaning might make the home look or smell better on the surface, but vacuuming and cleaning machines only remove some of the dirt, dust and particulates that cause allergic reactions. Similar to how we brush our teeth regularly, but every six months head to the dentist for a deeper cleaning, every six months or so, we should call in the pros.

It's okay to call in reinforcements from time to time
There's no shame in calling the pros. It's not just a time-saver; they also get results. Stanley Steemer offers these tips for maintaining a cleaner, healthier home all year long:
Vacuum heavy traffic areas 2-3 times a week and the rest of your carpets once a week; schedule a professional deep cleaning every six months.
Use indoor and outdoor entrance mats to reduce the amount of dirt that enters your home.
Homes should be cleaned in this order: air ducts first, upholstery and drapes second, then floors.
In the event of bad spills, keep the area moist until the pros arrive. And for the inevitable red wine spill, dilute the area with white wine before blotting.
Grout is a porous material that absorbs soil and spills, just like carpet. Having a sealant applied will help create a protective barrier, giving you more time to clean up dirt and liquid spills before they soak in.
For more information about spring cleaning or to engage a professional cleaner, readers can call 1-800-STEEMER or log on to www.stanleysteemer.com
This is part of a promotional campaign with Stanley Steemer. All opinions are our own.