This post may contain affiliate links. Read my disclosure policy here.
I always hated running — I mean really hated it.  I've always been someone who exercises or plays sports, but running was just not for me. After the birth of our first child, our gym membership was a casualty of the new budget.  Plus, I felt it was better for my son to be at home where I was his caregiver, so I managed to find  ways to work out while he napped.  When my youngest was born that all changed.
The time I had to myself while they both napped was virtually non-existent and certainly not enough time to exercise.  I knew that in order to be the best mom I could I needed to exercise — both to keep myself healthy and also to de-stress.  So The best solution seemed to be starting the one activity I despised — running.  Little did I know I would soon be hooked.
My running journey began with the purchase of a second hand double jogger.  I figured even if the running thing didn't work out, I could always use the stroller for walking or errands.  The first time the boys and I hit the street, my goal was just to see how far I could run while pushing both boys and the stroller.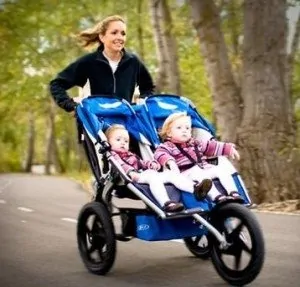 I was shocked at how hard this was!  I only made it about a quarter mile before having to walk.  Every day I would try to make it a bit further before slowing down and after about 2 weeks, I was up to a mile running nonstop.
One of my biggest struggles was trying to fit in running with the baby's nursing schedule and my 2 year old's busy social calendar!  My husband encouraged me to enter a 5k and this was exactly the motivation I needed.  I would train with the boys during the week and on the weekends I would run by myself.  When I completed that first 5K, a running addict was born.  That was 11 months ago. Since then I have completed another 5K, an 8K, a 10K, and am currently training for my first half marathon.
Running has provided me the exercise I crave, the stress relief every mom needs, yet still allows me quality time with the boys.  After each run, the boys and I play "I Spy" or just have silly conversations about anything we see while I cool down.  I also know that by involving them in my workout, that I am modeling to them the importance of exercise and how to enjoy the outdoors.  An activity I once hated has become one I love and hopefully one my children will enjoy when they are older.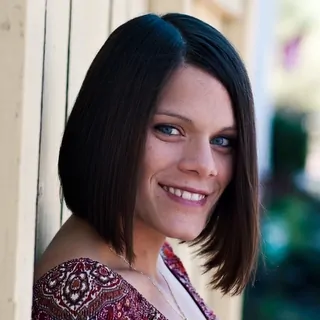 Sharon is a wife and stay at home mom to her 2 amazing and very active boys. She also blogs at Momondealz where she helps her readers use coupons, freebies, and giveaways to stay within their budget. Her background as a former elementary school teacher also helps provide her fans with kids crafts that are educational, fun, and frugal!