This post may contain affiliate links. Read my disclosure policy here.
As busy moms, we all need a little help from time to time. Maybe you signed up to host a bake sale at your child's preschool or you are coordinating a PTA fundraiser. Perhaps you are simply trying to support a new mom and coordinate an effort to provide her with meals.
No matter what the reason, Sign-Up Genius is here to simplify your event. The simple, easy to use website will help you coordinate your efforts with other parents in just a few steps.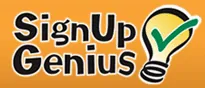 Here's how it works:
Create your event using the custom theme options
Enter the email addresses for your list
Sign up genius will email your list with instructions to sign up!
Even better, Sign up genius sends email reminders when important dates are approaching and even offers the option to swap dates with other volunteers! Other options include the ability to have text notifications and enable sign-ins directly on the website. As a bonus, Sign Up Genius also hosts contests for regular site users! You may also find helpful articles and tips on how to coordinate your volunteers.
Sign up Genius is a free and easy tool so make your life easier the next time you have to plan an event! 
This is part of a promotional campaign with Sign Up Genius. All opinions are our own.
Written by 5 Minutes for Mom Contributor, Andrea Updyke. You can find me blogging at Lil-Kid-Things and tweeting at @AndreaUpdyke.