This post may contain affiliate links. Read my disclosure policy here.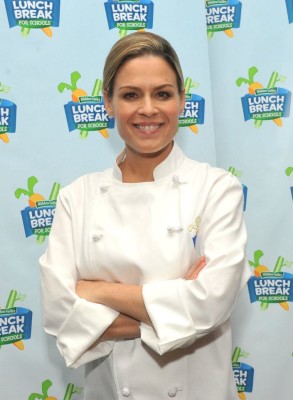 So many moms I know just don't cook. We're all busy juggling work and those after-school activities. Add to that that some people just don't like it, or some (more and more these days) who just never learned to cook, so they lack confidence in the kitchen.
I have refused to let my children grow up on a diet consisting only of chicken nuggets and grilled cheese, so I persevere in the kitchen. I want them to learn to eat and enjoy real food, and hopefully those meals include vegetables and are fairly healthy.
I talked with Iron Chef Cat Cora, who is a current contestant on the new season of Chopped All-Stars, and a mom of four sons. She also thinks that it's important for a parent to prepare meals for their kids. They don't have to be hard or fancy, but food is love. It's a way to show our kids we love them:
You want your kids to grow up and have those memories, those warm feelings "my mom did cook for me."
She also believes that there's nothing better than putting our hands to it. "Otherwise you have no control about what goes into their bodies. We can take control and decide what they are going to eat."
Encouragement for Moms
What's your struggle in getting meals on the table?
Cat Cora knows that everyone isn't an Iron Chef like she is. She encourages moms to know your strengths. I wish that you all could have been on the phone with Cat Cora and me. Her passion was contagious! But she also had some practical advice for those of us who struggle:
If you know you are great at making a good salad or a side dish, then pick up a rotisserie chicken or some roasted turkey. If you feel comfortable with the protein, then serve a pre-made salad or a piece of fruit on the side.
She also prepares lunches daily for her kids, assembly line style. She does a lot of quesadillas in their lunch, using some of that leftover chicken or turkey. The recipe below is perfect to be repurposed for lunch leftovers in a pita or tortilla.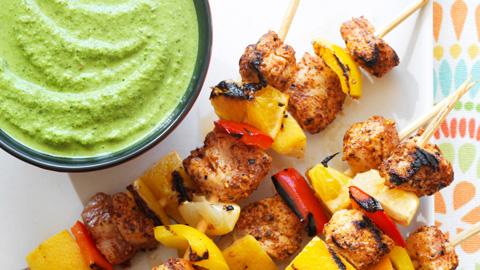 Cat Cora has posted some recipes in the Hidden Valley Ranch recipe section that encourage her kids to eat their veggies. Try the Basque-Rubbed Chicken and Veggie Skewers with Chimichurri Dipping Sauce, pictured above, for dinner one night and use the leftovers for a healthy lunch.
What are your food memories?
Whenever Cat returns home, there are always parties. Her parents are very social, and everything always felt like a special occasion. Her mom always made a favorite dinner for her children's birthdays. For Cat, it was always Greek Cinnamon Stewed Chicken.
I agree with Cat's philosophy that being there in the kitchen shows our kids we are there for them. I clearly remember coming home from school one day, and my mom said, "Don't come in the kitchen! I'm making you a special snack." It was as simple as crackers spread with peanut butter and sprinkled with mini marshmallows, then baked a bit to soften them up. This was a long time ago — over 30 years — and I remember it, and it was so simple.
What about you? What special memories did your mom create or are you creating for your kids?
Disclosure: Cat Cora is a paid spokesperson for Hidden Valley Ranch, as am I. My opinions, as always, are my own. Read more Parent Wisdom and Family-Friendly Recipes at the Love Your Veggies page.