This post may contain affiliate links. Read my disclosure policy here.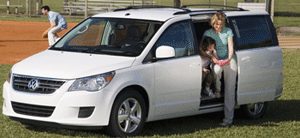 Next month, I will have the pleasure of driving around town in a shiny Volkswagen Routan.
Unfortunately, I will only have it for a week. I am sure that giving it back will be very tough. There may even be tears. No, not really, I hope.
I don't currently drive a minivan. Instead, I drive a blazer that my family of five crams into. The two car seats and booster don't leave even an inch of extra space in the back seat. But that's alright, I don't mind. I have never seen myself as much of a minivan person, BUT I have a feeling that the Routan will convert me.
Next month, I will post all about my week long experience with the Volkswagen Routan. We are even planning on taking a weekend road trip to test out some of its great features like the touch screen navigation system, heatable seats, power-folding third row seats, keyless entry with remote start and rearview camera.
I hear there is a Routan boom. Parents everywhere are having children just to purchase a Volkswagen Routan. With its sleek design and wonderful features, I can see why.
For fun, you can even use the Routan BabyMaker3000, like I did. Using an image of myself and my hubby, here is our Routan Baby.


For more Routan fun, our lovely friends at Volkswagen have a little something special for one of our readers.
A $50.00 gas card and fun Volkswagen Routan prize package including the book, Welcome to Your World, Baby, authored by Brooke Shields, Volkswagen T-shirts, a Volkswagen branded tin and a couple of mom essentials could be yours.
Please leave one comment below to enter this giveaway. You may earn additional entries for the following:
1. Subscribe to our Feed
2. Sign up for our Newsletter
3. Add our 5M4M button in your sidebar. Click here for banner codes.
4. Write a post and link back to this contest on your blog
5. Spread the word to your friends via facebook, twitter, etc.

If you are already subscribed, are on our newsletter list, and have our button in your sidebar, you qualify for these three additional entries. Go ahead and leave your additional comments below. Your comment is your entry, so if you qualify for the additional five entries, make sure you leave six comments in total.

Entries are open from Wednesday, December 31st thru Friday, January 9th. Our winners will be drawn randomly and we will announce the winners on Saturday, January 10th. Please make sure to check our site and your email address to see if you have won the prize. We must receive your reply within 5 business days.
Please see our site's Terms and Conditions of Use for a complete list of our Contest and Giveaway Rules. This promotion is void where prohibited.