This post may contain affiliate links. Read my disclosure policy here.
Did you know you're often more fertile after having a baby?!
I sure found that out. Less than a year after having my first child I was pregnant again with twins.
Did you also know that if you happen to be nursing, hormonal birth control isn't an option? I didn't breastfeed for very long so I was not aware of that. What's a girl to do then, when the pill is not even available to her?
When the people from Options Conceptrol approached me because they wanted to reach out to new moms about a hormone-free birth control, I started to see the pros. You only use it when you need it, and it works right away! The best part? You can pick it up right at your local store without a prescription. (I'm loving the thought of not needing a prescription!)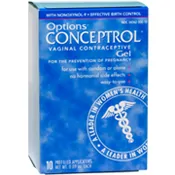 Conceptrol uses a clear, unscented gel with the spermacide Nonoxynol-9. Nonoxynol-9 is 94% effective when used correctly.
While contraceptive gels or spermicides may not be the most popular birth control method out right now, they do have a lot of advantages over the pill. Options Conceptrol has been on the market for over 50 years…I had no idea. So I definitely wanted to help spread the word!
For the moms who breastfeed, remember you can feel good that it's hormone-free. Conceptrol has none of the side effects associated with the pill. You won't have to worry about cancer risks, mood swings, loss in sex drive, weight gain and all the other scary symptoms you hear listed at the end of most birth control commercials. Conceptrol won't interfere with becoming pregnant again when you're ready.
Pregnancy comes with enough hormonal changes … you don't need any more from your birth control.
Conceptrol is available at: Target, Wal-Mart, Walgreens, CVS, RiteAid and Drugstore.com.
This post is part of a promotional campaign with Revive Products. All opinions are our own.