This post may contain affiliate links. Read my disclosure policy here.
Good, family-friendly, TV shows can be hard to come by these days.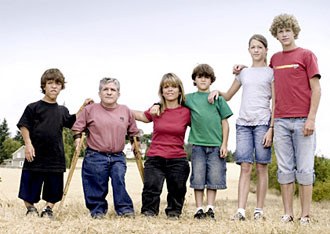 That is why I am such a fan of TLC, especially Little People, Big World.
My six year old son Jackson loves watching Little People, Big World because it satisfies his childhood curiosity of observing other families and how they live. I love him watching it because it broadens his understanding of other people and helps him recognize that just because people are "different" we really are all the "same."
I told my son I was going to be interviewing Amy Roloff and asked him what he wanted to ask her.
Jackson replied, "What does it feel like to be a little person?"
It touched me that he wanted to know how Amy felt. I talk a lot about feelings with my son and how people feel in situations, etc. But, of course, I wonder how much of those conversations really sink in to a six year old boy's heart.
Yet Jackson's tender heart showed up in his question. He realizes being "different" can hurt and the first question he thought to ask was, "How do you feel?"
Increasing my son's compassion and broadening his worldview, is why I watch Little People Big World with him.
The Roloffs are doing an incredible job advocating for both little people and for every other person who struggles with physical, emotional or mental challenges just by letting us peek into their very ordinary, yet extraordinary, days.
It was wonderful to see that in his six year old way, my son gets what the Roloffs are trying to achieve through their show.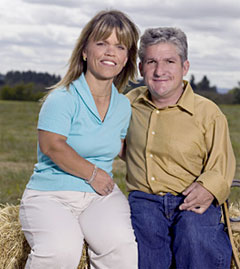 Interviewing Amy was fantastic!
She is super friendly and open. In fact, Amy chatted so much I had to break down our interview into SIX segments!
(And after we finished recording, Amy and I chatted for another half an hour! Amy is one of the nicest, most down to earth people I have ever met. She is completely the kind of woman you would want in your inner circle of friends!)
I will publish the first three segments here in Part 1 and, in a few days, I will publish the final three in Part 2.
In our first three segments, Amy introduces us to her family, and answers questions including:
"With your work, four kids and a hit TV show that tapes in your home do you get any down time?"
"Was the show one of Matt's creative ideas?"
"What was your reaction to having a show about your family's life?"
And my son Jackson's question: "What does it feel like to be a little person?"
In Part 2, Amy answers some of our readers' questions, including:
"How many days and weeks of the month do you have the cameras in your home?"
"How do you keep patient with Matt's 'crazy' ideas?"

I asked Amy, how she deals with the criticism and controversy that comes with media attention.
Amy went into great depth answering this question about how she deals with the negative side of fame. You don't want to miss it!
So make sure you check back for Part 2 of my Podcast with Amy Roloff.
To listen to the first three segments of my interview with Amy, click on the players below, (the little brown arrows.)
[display_podcast]