This post may contain affiliate links. Read my disclosure policy here.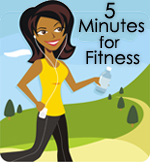 I know it is a crazy time of year but please don't forget to schedule in time to be active and stay healthy! Give yourself the gift of fitness by vowing to move MORE every single day! Even just a few minutes per day will boost your spirits, lower your stress level, and make you stronger.
Here is a FUN workout that you can do anywhere, at anytime. Grab a deck of cards, lace up your shoes, and let's get MOVING!
*Draw 15 cards from the deck and put them face down on the floor.
*Walk/jog around your house for about 2 minutes as a warm-up.
*Squat (don't bend, squat!) down and pick up the first card.
*If it is RED, do as many jumping jacks as the number on your card. (example: red eight means 8 jumping jacks.)
*Don't rest, draw the next card!
*If it is BLACK, walk up and down your stairs for that number. (example: black queen. Go up/down TEN times)
*Continue to draw cards until they are all gone; following the red and black exercises.
*Finish up the workout by doing 5-20 push-ups.
If you have the time, continue the workout with the rest of the deck.
If you are time crunched, grab some water and pat yourself on the back. You just completed a tough workout in a short period of time!
I guarantee you WILL feel better when this is done. Try it out and let me know how it goes.
Remember gang, never underestimate the power of a workout!

This column is hosted by Lisa. She can be found doing squats and lunges over at Workout Mommy.