This post may contain affiliate links. Read my disclosure policy here.
A perfect indoor activity for kids is making homemade ice cream! Winter may be ending soon, but it's never the wrong time of year for homemade ice cream.
Ice cream on a snow day? Sure! We've taken the easy shake-a-bag ice cream method and warmed things up with fun toppings and great tips. So get the kids out of bed and into the kitchen for a Snow Day project everyone will love.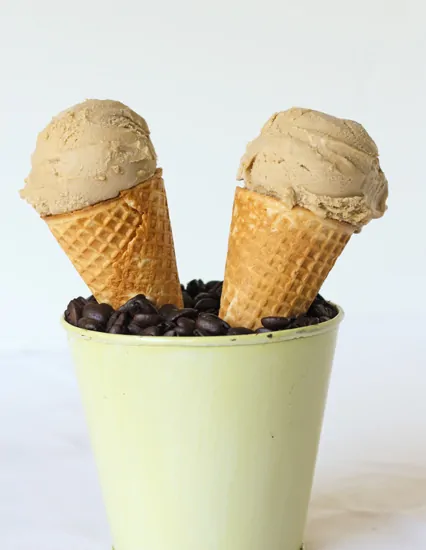 The Basic Method
You don't need an ice cream maker to whip up a quick batch of ice cream. You may have heard of the "Ziploc bag" ice cream method, but we've amped it with a secret ingredient: xanthan gum. Here we go:
Ingredients
Two Ziploc bags, two different sizes, with secure closures
1 c. 2% milk
¼ c. granulated sugar
¼ tsp. vanilla extract
⅛ tsp. xanthan gum
ice cubes
salt
Method
In the smaller bag, place milk, sugar, vanilla extract and xanthan gum. Shake well for about 1 minute. Making sure the smaller bag is tightly sealed, place it inside the larger bag. Add about 1 c. ice cubes. Add salt. (The salt will lower the freezing point of the milk, making it freeze sooner.) Seal larger bag tightly. Shake bag continuously. Milk will begin to freeze (the xanthan gum keeps it creamy rather than grainy). When milk reaches soft-serve consistency, open larger bag, remove smaller bag, cut/zip open and scoop out ice cream. Serve immediately.
If You Own an Ice Cream Maker
You can go the whole hog if you already own an ice cream maker. It's not necessary to have one in order to make your own ice cream (see above), but a great ice cream maker can add that authentic, creamy taste by continuously adding air to the mixture.
If you don't own a machine and are looking into purchasing one, look for quality and dependability, as well as excellent reviews.
Mmm…Toppings
Now comes the fun part! Have plenty of microwaveable ice cream sauces (chocolate, butterscotch, white chocolate) on hand. Warm these up and let the kids go crazy over their yummy home made ice cream.
You might also add:
crushed/chopped nuts
peanut butter
whipped cream
M&Ms/chocolate pieces
chocolate, peanut butter and butterscotch chips
crushed candy bars, such as Butterfinger
chopped fruit
mini marshmallows
Homemade Ice Cream Helpful Tips
Whether made with an ice cream machine or via the Ziploc method, all homemade ice creams are not the same. Here is some info to keep in mind:
The more you shake/stir your ice cream, the more air will enter between the ice crystals that are forming, which helps prevent a grainy texture.
Xanthan gum isn't dirt-cheap, but for the amount you'll need to use for this recipe or for puddings, sauces or gravies, you'll be spending less than pennies per recipe. If you can't find xanthan gum at your local grocery store, look online. I have found Amazon and Netrition.com to have the best prices of those I've looked at.
You can easily flavor your ice cream during preparation. One of my kids' very favorite ways to kick their dessert up a notch is with half a teaspoon of strawberry extract. For grown-ups, experiment with amaretto and other flavors that contain alcohol (alcohol also helps keep the ice cream from going grainy), or with a quarter teaspoon of instant coffee and 2 teaspoons cocoa powder for a mocha flavor.
You can keep your ice cream cold in the freezer, but if you're using the bag method, your ice cream might freeze too hard even with the addition of xanthan gum. Take out 5 minutes in advance of eating and mush the bag between your fingers for 30 seconds or so before serving. Or microwave for 15 seconds to soften slightly, then mush the bag before serving.
Don't let the winter go by without at least one great snow day ice cream making party. If the roads are safe, you can even invite your children's friends over to join in the fun. They're guaranteed to have a deliciously good time.
About the author:
Written by Chris Molnar. As a resident of the Prairies, Chris knows all about snow days.
Ice cream photo by couldntbeparve on Flickr.