This post may contain affiliate links. Read my disclosure policy here.
Give a child a book and a whole world opens up to that child.
I'm paraphrasing something I have heard from others. Books are treasures. Books open up new worlds for children and adults. In our family, books are an integral part of the learning process. Learning never stops does it?
From time to time one of my children will become enraptured by a book. My daughter would not put down a series of books about a funny bunny. She read those books over and over again. She acted out the stories from the books. She drew pictures based on what she heard as I read to the books to her or from what she saw in the pictures. Simply put, she lived, ate, and breathed in these books.
As a parent, I want to pass on my love of books to my children. One fun way of extending the learning process with your children is to build on a favorite story with outside activities. For instance, if you are reading "The Wheels on the Bus" to your child, sing the song to your child, act out the song, talk about buses, or find another book from the library about transportation. Kids love when learning spills from books to all parts of their world.

Recently, I was sent a selection of products to review. The Kidz Entertainment Inc. sells books with companion toys and games. For instance, my daughter loved the Show Cat Package. This set comes with the oh-so-elegant white furry Show Cat. This adorable cat comes in a see-through carrying case with a brightly illustrated picture book, an award-winning CD, and a companion coloring book. This set is the perfect vehicle for allowing your child to explore on a multisensory level. part of the appeal of the books is that the author has included facts and figures about the breeds of cats. Can't you see your child groooving to the tunes on the CD? Coloring a picture of a kitty for Grandma? Begging to read the book at bedtime? Swinging and twirling with the kitty purse on her shoulder? My children love to do this!
Kidz Entertainment produces plush animals, picture books, and other gifts that combine the worlds of children, animals, and music. The books and associated products are recommended for ages 3 through 8. Kidz Entertainment products:
Are both educational and interactive
Reach children on many sensory levels
Entertain the imagination with bright and beautiful illustrations.
Contain factual information about various breeds of dog or cats, which adds an educational dimension.
Include a music sheet with an awardwinning CD attached to the back cove for an interactive sing along facet at home.
Have a unique variety of beautifully made muff or handbag  or plush animals with necklaces, which can be coupled with some of the other offerings.
Make ideal birthday or holiday or special occasion or even just-because gifts.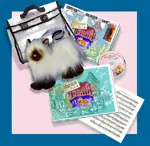 Other Kidz Inc. products include:
"I Can't Seem To Find My Tail" — Pansie the Piglet book — $19.95
Pansie the Piglet Book Package — picture book, plush piglet purse with bling necklace(!), CD, and music sheet — $29.95
Pansie the Piglet Coloring Book — $4.95
Show Dog Book Package for Boys — picture book, Show Dog puzzle, Show Dog coloring book, CD, and music sheet — $29.95
Show Dog Book Package for Girls — picture book; choice of Show Dog handbag, muff or plush animal; Show Dog Coloring Book, CD, and music sheet — $29.95
Show Dog Coloring Book — $4.95
and more!
Kidz Entertainment products can be found on their site — KidzEntertainmentInc.com. For a complete list of Kidz Inc. products, go here. Prices range from $4.95 to around $29.95 plus shipping and handling.
I was sent a selection of Kids Entertainment Inc. products to facilitate my review for 5 Minutes for Mom. The opinions expressed in this post are my own. I follow the tenets of Blog With Integrity.

Jill Berry @MusingsfromMe is a writer who stays at home or a SAHM who writes…it depends on the day and her mood. While playing a writer on the internet, Jill has the gray hair AND blogposts from raising a kid, a preteen, and a teen. When not blogging at Musings from Me, Jill seizes family time whenever she can…dinner as a family, movie night, marathon family game sessions, traveling…you name it she wants to do it.
While by no means an expert on kids, parenting, or being a mom, Jill shares her expertise and knowledge on several national, such as, TypeAParent, Technorati Women's Channel, and AboutOne's blog as well as a couple of hyperlocal sites, The Baltimore Examiner, The DC Moms, and the Ellicott City Patch.