This post may contain affiliate links. Read my disclosure policy here.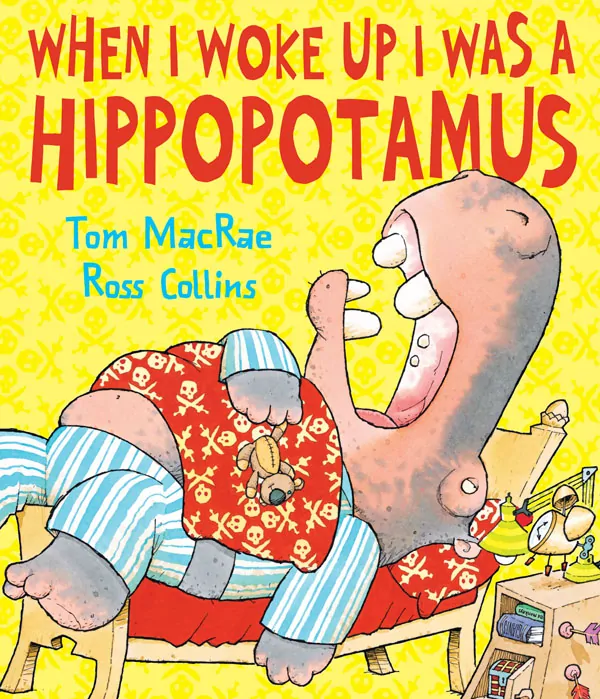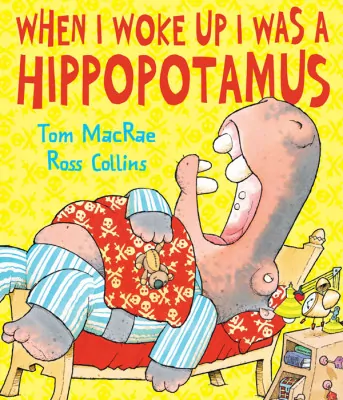 When I Woke Up I Was a Hippopotamus, written by Tom MacRae and illustrated by Ross Collins, is the charming story of a little boy who wakes up one morning feeling like a big hippopotamus who can hardly move and just doesn't want to get out of bed. As the day goes on, he always seems to be a bit out of step with how he should be feeling in that moment, and each feeling is represented by a different animal or object.
This book is aimed at children 4 and up, and my son is almost 10, so you might wonder why I chose this book.** Well, the main reason is that it deals with identifying emotions, which is an area of difficulty for my son, who has high-functioning autism. Also, although he reads at a much higher level, he still enjoys picture books, especially at bedtime.
At first, I was disappointed because the concept of the boy seeing himself as a hippopotamus or a monkey was too abstract for Michael, even after we read the book a couple of times and talked about what was happening. He liked the illustrations and the rhyming text, but he was still confused by the idea that people weren't actually seeing a robot or a rocket ship when they looked at the boy.
He did ask me to read him the book again the next day, however. Then he surprised me by coming to me later in the week and asking me if I remembered the "hippo book." I said yes, and he proceeded to tell me that he had figured it out and that the different scenes were examples of metaphors. I asked, as I usually do in these situations, what that word meant, and he explained that a metaphor is "when you describe something by talking about something it is like." They have apparently been learning about metaphors at school, and he remembered the book and realized that's how the story was written.
So, in the end, this turned out to be a great choice for my son, helping him explore how different situations can make us feel, as well as reinforcing something he was learning at school. For those who aren't in our unique situation, I think this would be an ideal book for any young child who is experiencing a lot of different emotions and isn't sure how to respond when he or she is a bit out of sorts.
One thing I really loved about the book is how the boy's mom and dad help him find a way to feel like himself again and to enjoy their activities together. It is so nice to see parents being shown giving direction and help to their kids and how that can turn a difficult day around.
**The 5 Minutes for Books team are happy to be a part of Scholastic's Parent Circle. Each month, one of our reviewers will select a book from that month's Scholastic Book Club flyers. I selected When I Woke Up I Was a Hippopotamus from March's SeeSaw flyer.
We are happy to offer one of you a copy of this book (U.S. shipping only), as featured in the Scholastic book club flyer. Leave a comment to enter. We'll announce the winner in our book column on March 12.
The winner of From Blah to Awe is #1 Zsa Zsa.
5 Minutes for Books staff book blogger Trish is glad her son still loves to cuddle up for a bedtime story. She blogs at In So Many Words.