This post may contain affiliate links. Read my disclosure policy here.
Toddler rocking toys are the PERFECT gift for a baby or toddler.
Julia, Sophia and Olivia all have spent hours and hours playing on their toddler rockers.
We gave Julia her toddler rocker when she was 9 months old and now at 3 and a half years old, she STILL rides it. And of course one year old Sophia has been loving riding it for months and can climb on and off of it by herself.
And Julia's rocker has lasted sooooo well… You'd never guess it was over three years old… it looks like new.
If you know of a baby or a toddler who would love an extra special gift from Santa this year, or you have a baby shower or baby's first birthday coming up soon, leave us a comment and let us know.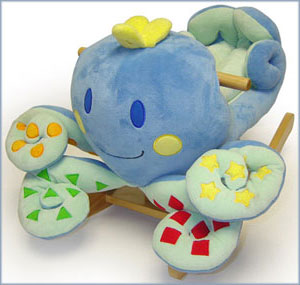 We are going to play Santa one more time and send out an Ollie the Octopus rocking toy to one of you.
But… not only that… we have actually dropped the price of this adorable Ollie the Octopus rocker to basically below our cost.
Why you ask? Well, we simply have a few too many Ollie's in inventory and we need to make space.
Toddler Rockers are our number one product selling out like crazy in our rocking horse store. Many of the different styles are already out of stock… but for some reason, adorable Ollie is being overlooked and he's taking up space in the warehouse.
So… for a few days, we're giving you the chance to grab one of these cuter-than-can-be rocking toys for your little munchkin at only $49.99. That's basically half the normal price.
(We have NEVER cut the price of a product like this before, and we won't likely do it again for a long time…)
And we're giving one away. BUT… don't wait to win, because we'll just refund your money if we draw your name. These rockers will sell out fast at this price, and timing is getting really tight if you want it to arrive before Christmas day.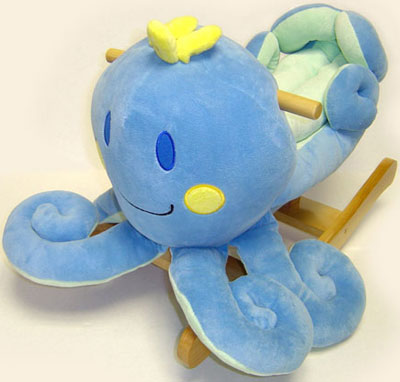 So, click over and grab Ollie at $49.99 and then leave a comment and if we draw your name, we'll refund your money. You'll get a great deal and a chance to get your money back. It doesn't get better than that.
And remember you can enter for MULTIPLE chances to win if you link back here and/or tweet about it and/or subscribe to our newsletter.
If you tweet or spread the word via facebook, your blog, etc., just leave comments letting us know and you will have additional entries.
This is a short contest lasting for this weekend only. We will select and announce a winner on Monday December 15th, 2008. And remember you can order your Ollie now at the clearance price and if you win, we'll simply refund your money.
Please see our site's Terms and Conditions of Use for a complete list of our Contest and Giveaway Rules. This promotion is void where prohibited.
This giveaway is only open to US shipping addresses.